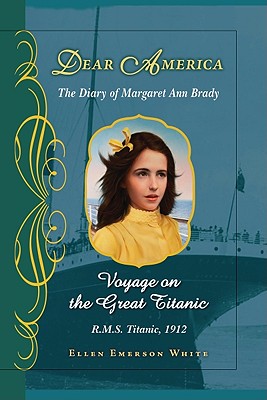 Dear America (Hardcover)
Voyage On The Great Titanic
Scholastic Press, 9780545238342, 208pp.
Publication Date: November 1, 2010
Other Editions of This Title:
Hardcover (9/1/1998)
Library Binding (11/1/2010)
* Individual store prices may vary.
Description
One of the most popular Dear America diaries of all time, Ellen Emerson White's bestselling VOYAGE ON THE GREAT TITANIC is now back in print with a gorgeous new package!

Five years ago, Margaret Ann Brady's older brother left her in the care of an orphanage and immigrated to America. When the orphanage receives an unusual request from an American woman looking for a traveling companion, Margaret's teachers agree that she is the perfect candidate to accompany Mrs. Carstairs on the TITANIC, so that once Margaret arrives in New York she will be free to join her brother in Boston. But the TITANIC is destined for tragedy, and Margaret's journey is thrown into a frozen nightmare when the ship collides with an iceberg.
About the Author
Ellen Emerson White has written several critically acclaimed novels for young adults, among them THE PRESIDENT'S DAUGHTER, and its follow-up, LONG MAY SHE REIGN, as well as LIFE WITHOUT FRIENDS and LONG LIVE THE QUEEN. Ms. White graduated from Tufts University with a BA in English. She also studied fire science and police science at John Jay College in New York City and is certified to teach high school English. Her interests include the Vietnam War, cooking, downhill skiing, the Boston Red Sox, the New England Patriots, jazz, reading, politics, and pets.
Discuss how Margaret Ann Brady came to live at St. Abernathy's Orphanage for Girls.
What do you think of Mrs. Carstairs? Discuss her generous, as well as petty, behavior. Does she ever thank Margaret for forcing her to board a lifeboat?
What role did each of these vessels play in the Titanic story: the New York, the Californian, and the Carpathia?
Margaret describes the heroic actions she witnessed the night the Titanic sank: "Men moved aside, without the slightest thought for themselves. There are not sufficient words in the English language to honor their valor and gallantry." If such a disaster occurred today, do you think people would act the same way? Turn to the author interview at the end of this guide for Ellen Emerson White's answer. Do you agree?
Margaret's diary is filled with observations about the different classes of people aboard the Titanic. Cite several examples of how the classes were treated and separated on the ship. Do we have such class distinctions in America today? Explain.
What scene from Margaret's diary do you remember best? Why?