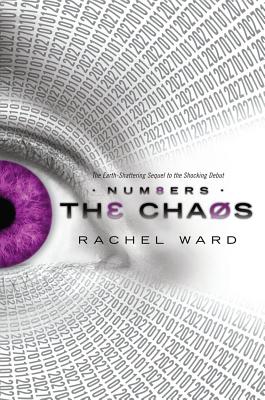 Numbers Book 2 (Paperback)
The Chaos
Chicken House, 9780545263559, 368pp.
Publication Date: April 1, 2012
* Individual store prices may vary.
Description
The curse of the NUM8ERS continues in Rachel Ward's CHA0T1C sequel -- told in the compelling alternating voices of runaway Sarah and hard-luck Adam.

Adam inherited his mother Jem's curse. With a vengeance. When he stares into someone's eyes, he doesn't just see the date of their death, he feels the searing, shocking pain of it.

Orphaned, Adam has grown up by the sea with his great-grandmother, Val. But as rising tides flood the coast, they flee to London. The city is an alien, anarchic place. Most disturbing of all, Adam can't help but clock how many people's numbers are in January 2027; how many are on New Year's Day.

What chaos awaits the world? Can Adam and his damaged friend Sarah stop a catastrophe? Or are they, too, counted among the "twenty-sevens"?

"Creepy and original!" -- R.L. Stine

"Engrossing and au courant." -- The L.A. Times

*Includes a sneak peek at 1NF1N1TY, the end of the trilogy!*
About the Author
RACHEL WARD first won a writers' award at a regional arts festival, and her prize-winning short story turned into the opening chapter of NUMBERS, her breakout debut novel. Its sequel, THE CHAOS, was published in Spring 2011; the trilogy concludes with INFINITY. Rachel lives in Bath, England, with her husband and their two children.
Praise For Numbers Book 2: The Chaos…
Praise for NUMBERS

"Even the idea of this book gave me chills. How would you like to know someone's fate just by looking in their eyes? Creepy and original." --R.L. Stine

"A page-turner. What starts as a simple extrasensory gimmick grows into an increasingly engrossing and au courant plot line involving terrorism, class tensions, and youth. One thing is certain: Ward's Numbers is ace." -- The Los Angeles Times

* "Gritty, bold, and utterly unique. Jem's isolation and pain, hidden beneath a veneer of toughness, are palpable, and the ending is a real shocker." * -- School Library Journal, STARRED review

*"It's a gritty tale, unsparingly told, and debut novelist Ward demonstrates exceptional control of her material. Her characters remain true to themselves and their bleak circumstances, making for some excruciating moments....Despite its supernatural premise, Jem's story shines a stark and honest light on the lives of teens on the fringe."* -- Publishers Weekly, STARRED review

"A lovely, bittersweet tearjerker about living life to the fullest." -- Kirkus Reviews

"A moving portrayal of life and love lost." -- Bulletin of the Center for Children's Books

"Intelligent and life-affirming. Rachel Ward is certainly one to watch." -- The Guardian (UK)

"Utterly compelling." -- The Sunday Telegraph (UK)
or
Not Currently Available for Direct Purchase