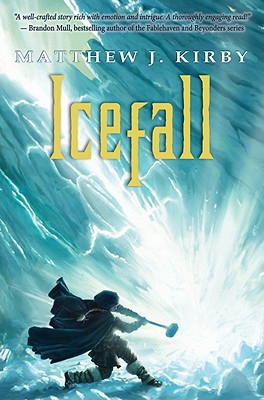 Icefall
Hardcover

* Individual store prices may vary.
Other Editions of This Title:
Paperback (2/1/2013)
Prebound (2/1/2013)
Description
Trapped in a hidden fortress tucked between towering mountains and a frozen sea, Solveig, along with her brother the crown prince, their older sister, and an army of restless warriors, anxiously awaits news of her father's victory at battle. But as winter stretches on, and the unending ice refuses to break, terrible acts of treachery soon make it clear that a traitor lurks in their midst. A malevolent air begins to seep through the fortress walls, as a smothering claustrophobia slowly turns these prisoners of winter against one another.

Those charged with protecting the king's children are all suspect, and the siblings must choose their allies wisely. But who can be trusted so far from their father's watchful eye? Can Solveig survive the long winter months and expose the traitor before he manages to destroy a kingdom?

"A well-crafted story rich with emotion and intrigue. A thoroughly engaging read!" -- Brandon Mull, bestselling author of the Fablehaven and Beyonders series


Praise For Icefall…
Praise for Icefall:

A 2012 Edgar Award Winner for Best Juvenile Mystery
A 2011 Agatha Award Nominee
New York Public Library 100 Books for Reading and Sharing
2012 ALA Best Fiction for Young Adults
Judy Lopez Memorial Award Winner

"[O]ne of the best reads of the season . . ." -- Deseret News

"[A] claustrophobic, thought-provoking coming-of-age adventure . . ." -- Publishers Weekly

"[A] taut, compelling mystery and survival story . . . Readers will be left thinking about this one long after the chill has left their bones." -- Bulletin of the Center for Children's Books

"[A] superb mystery enriched with powerful, believable characters, plot, and setting, and guarantees that readers will be thoroughly engaged to the final word." -- Books to Borrow, Books to Buy, Nationally Syndicated Column

"Interesting, well-developed characters abound. . . . [and] the chilly, claustrophobic, ancient setting is vividly created." -- Kirkus Reviews


Praise for The Clockwork Three:

* "In this riveting historical fantasy . . . debut novelist Kirby has assembled all the ingredients for a rousing adventure, which he delivers with rich, transporting prose. Mixing fantasy and steampunk elements with subtle urban mythology, Kirby's immersive story can be read as a modern morality play or a satisfying stand-alone tale." -- Publishers Weekly, starred review

"[M]emorable characters, hearty action, and palpable atmospherics." -- Booklist

School Library Journal, November 2011:

Solveig and her two siblings are sent to the far end of a fiord for safety's sake while their father battles to save his kingdom. Solveig knows that the elite warriors who brought them there are entrusted to guard her younger brother, Harald, the crown prince. Older sister Asa, favored for her beauty and marriage potential, causes Solveig to agonize about her own insignificance and lack of purpose. Supplies dwindle while waiting for victory news, and anxiety increases as a warship full of the king's berserkers arrives just as ice closes over the fiord. Stranded for the winter, the untamed warriors are restless and unpredictable, and begin to raise mayhem in the camp, killing Solveig's pet goat and accusing one another of treason. Calmed only by listening to stories told by Alrec the skald (poet of the living past), the boorish Vikings become attentive to Solveig as well, bolstering her confidence and providing a means for the author to (ingeniously) integrate tales from Norse mythology, featuring gods Odin and Thor, supernatural creatures, and fallen warriors. In a page-turning climax, the fiord thaws and enemies arrive to overpower the berserkers and kidnap Harald. The ensuing battle and survival scenes are vividly portrayed, and characters fight back with the epic heroism of gods. Solveig is an empathetic heroine and Hake, the hulky berserker war chief, is also a well-developed and (eventually) endearing character. Fans of John Flanagan's "Ranger's Apprentice" series (Philomel) will enjoy this adventure tale.–Vicki Reutter, Cazenovia High School, NY


The king's three children and a small group of warrior-protectors take refuge in a winter-bound steading on a northern fjord and discover there's a traitor in their midst.

Beautiful Asa, the eldest princess, faces an arranged marriage, although she loves another. Harald, the youngest, will one day be king. But the narrator, middle daughter Solveig, is neither attractive nor particularly useful, until she begins to realize she has talent as a storyteller and could have a future as a skald, or court bard. As food runs low and bitter winter tightens its hold, someone in the group begins to sabotage the remaining supplies, and Solveig has a dream that foretells a tragic end to their efforts to survive. Interesting, well-developed characters abound, and Solveig's strong narrative voice adds authenticity as she grows into her new role, not just telling stories of the mythical Scandinavian past but creating tales to alter the behavior of those around her. Valid clues and occasional red herrings heighten the sense of mystery. The chilly, claustrophobic, ancient setting is vividly created, and the sense of impending doom generates a gripping suspense overarching the developing—and deteriorating—relationships among the group, marking Kirby (The Clockwork Three, 2010) as a strong emerging novelist.

Recommend this one to teens who crave a good mystery set in an icily different time and place. (Alternative historical mystery. 11-18)


Scholastic Press, 9780545274241, 336pp.
Publication Date: October 1, 2011
About the Author
Matthew J. Kirby is the critically acclaimed author of the middle-grade novels Icefall, which won the Edgar Award for Best Juvenile Mystery and the PEN Literary Award for Children's Literature; The Clockwork Three, which was named a Publishers Weekly Flying Start; The Lost Kingdom; Last Descendants, an Assassin's Creed novel; The Quantum League: Spell Robbers; and Cave of Wonders, the fifth book in the Infinity Ring series. He was born in Utah and grew up in Maryland, California, and Hawaii. Matthew is currently at work on his next novel.

or
Not Currently Available for Direct Purchase