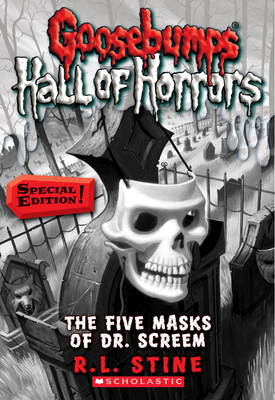 The Five Masks of Dr. Screem
Special Edition (Goosebumps Hall of Horrors #3): Special Edition
Paperback

* Individual store prices may vary.
Description
Welcome to the Hall of Horrors, HorrorLand's Hall of Fame for the truly terrifying.It's Halloween and Monica Anderson is out Trick-or-Treating with her younger brother. They knock on the door of an old, creepy house and are met by a strange woman who pleads for their help. Every year she must battle for the control of five sacred masks with the evil Dr. Screem. These artifacts have the power to manipulate the world around them. Monica doesn't want to help at first but then Screem bursts in and steals the masks. This sets her and her brother off on a Halloween mission that will change their lives forever!
Scholastic Paperbacks, 9780545289368, 192pp.
Publication Date: July 1, 2011
About the Author
R.L. Stine is the creator of the bestselling Goosebumps series, which has more than 400 million copies in print worldwide and celebrated 25 years in 2017. Goosebumps is one of the bestselling children's series of all-time and inspired a popular television show, as well as a feature film starring Jack Black that opened at #1 at the box office. His other popular children's books include the series Fear Street, Mostly Ghostly, The Nightmare Room, and Rotten School, and his first picture book, with Marc Brown, The Little Shop of Monsters. R.L. Stine lives in New York City. You can connect with him on Twitter at @RL_Stine or Facebook: facebook.com/rlstine. For more information, visit rlstine.com and www.scholastic.com/goosebumps.