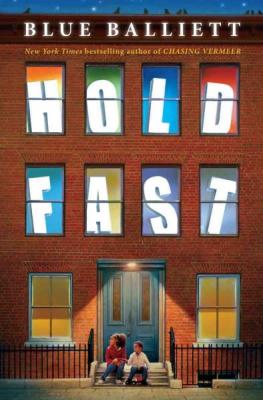 Hold Fast
Hardcover

* Individual store prices may vary.
Other Editions of This Title:
Digital Audiobook (2/28/2013)
Paperback (1/27/2015)
CD-Audio (3/1/2013)
Description
From NYT bestselling author Blue Balliett, the story of a girl who falls into Chicago's shelter system, and from there must solve the mystery of her father's strange disappearance.

Where is Early's father? He's not the kind of father who would disappear. But he's gone . . . and he's left a whole lot of trouble behind.

As danger closes in, Early, her mom, and her brother have to flee their apartment. With nowhere else to go, they are forced to move into a city shelter. Once there, Early starts asking questions and looking for answers. Because her father hasn't disappeared without a trace. There are patterns and rhythms to what's happened, and Early might be the only one who can use them to track him down and make her way out of a very tough place.

With her signature, singular love of language and sense of mystery, Blue Balliett weaves a story that takes readers from the cold, snowy Chicago streets to the darkest corner of the public library, on an unforgettable hunt for deep truths and a reunited family.
Praise For Hold Fast…
"The four Pearls live in a one-room apartment in South Side Chicago, rejoicing in their love for reading and celebrating words and poetic rhythms while keeping their eye on the dream of a house of their own. Dash, the father, works at the library, quotes Langston Hughes, and takes on some extra work for a dealer of old books, hoping to build up the family nest egg. When he disappears, and a violent break-in forces Early; her mother, Sum; and her younger brother, Jubilation, to escape to a homeless shelter, they are sure that their father will show up soon and they will be together again. But Dash's strange disappearance and the police's refusal to believe that there is more to the story cause Early to summon her strength and follow the clues herself. Balliett paints a vivid picture,  a literary composition reminiscent of an Impressionist painting, and the landscape of life as a child within the social-services system comes into focus through the eyes of an 11-year-old. Early's interactions with the other kids at the shelter and at school help her devise a letter-writing campaign about housing for the homeless that one hopes might gain a foothold in the real world.  This is an engaging mystery in which books are both the problem and the solution, and the author shows that the fight to hold fast to your dreams rewards those who persevere. Excellent." – Cheryl Ashton, School Library Journal starred review


"Eleven-year-old Early Pearl holds fast to her family's dream of a home of their own even after her father disappears, their apartment is ransacked, and she and her brother and mother are forced to move to a shelter.
Taking her title from a Langston Hughes poem, the author of Chasing Vermeer (2004)weaves a moving story of homelessness, family, and the love of words and books. This mystery opens promisingly with a wintertime bike accident, a man's disappearance and a series of numerical coincidences. A warm family circle of four is broken; there's a violent burglary; the three remaining flee to Helping Hand. Early and her 4-year-old brother, Jubilation, play at being spies, but the fifth grader does real detective work, researching in the Chicago Public Library, where her father worked, and enlisting the help of some sympathetic adults. Gradually she, and readers, come to realize that her dad has been caught up in an international crime operation and that all of them are in danger. Early's family reads; her father is such an admirer of Langston Hughes that the poet's TheFirst Book of Rhythms is a family treasure and plays a vital role in the solution of this intricate tale. Chapters are identified by word definitions (possible clues) and line patterns reminiscent of those in Hughes' book." - Kirkus starred review
 "In a one-room apartment on Chicago's South Side lives the Pearl family: Dash, Summer, 11-year-old Early, and little Jubie. Do they have a lot? Well, yes, they have Dash's love of words, their devotion to each other, and their dream: to have a home. Trying to help that dream along, Dash, a page at the Chicago Public Library, makes extra money inventorying a private collection of old books. One ice-cold day, Dash disappears, and the family must move to a shelter after an odd robbery sees their possessions stolen and their apartment destroyed. The story has some problems, especially when it comes to the mystery. Theperpetrators are cartoonish, and Early's decision to be "home-schooled" just when she needs to be free to find clues is awfully convenient. On another front, the national attention for a homeless program Early's devised might have fit better in a sequel. But what's wonderful about this, overshadowing the flaws, is the way Balliet so thoroughly gets inside the mind of a child accustomed to love and protection—and who now sees her life slipping away. Sadness and stoicism mingle freely in ways that will pierce all readers. Early is a clever heroine, and her smarts are enhanced by the poetry of Langston Hughes, which ripples beautifully through the story and infuses it with hope. One to ponder, this has a beat all its own.
HIGH-DEMAND BACKSTORY:
A new book by Blue Balliet, author of
Chasing Vermeer (2004), is always an awaited event, and this title will be no exception."
- Ilene Cooper, Booklist starred review 


Praise for The Danger Box:



* "Balliett demonstrates how danger boxes are all around us–not just as containers of physical objects for which people will hazard a great deal, but as vehicles that expose us to risky ideas and dreams. This highly satisfying story will enlighten readers even as it inspires them to think about their own danger boxes." - School Library Journal, starred review



"Blue Balliett's fourth mystery, The Danger Box, spins a web of science and history into a spine-tingling yet uplifting tale. Kids are in for an adventure that leaves no reader untouched." - Chicago Sun Times
Scholastic Press, 9780545299886, 288pp.
Publication Date: March 1, 2013
About the Author
Blue Balliett is the author of several bestselling, acclaimed mystery novels, including Chasing Vermeer (a Book Sense Book of the Year and an Edgar Award winner), The Wright 3, The Calder Game, and The Danger Box. She writes in the laundry room of her home in Chicago, Illinois, and you can find her online at www.blueballiettbooks.com.
or
Not Currently Available for Direct Purchase