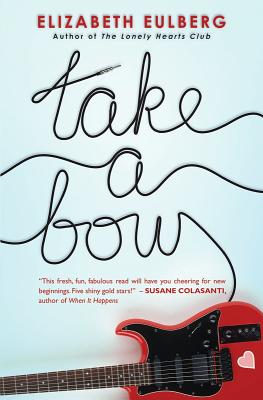 Take a Bow (Paperback)
Scholastic Paperbacks, 9780545334761, 288pp.
Publication Date: February 1, 2013
* Individual store prices may vary.
Description
From the fantastic author of The Lonely Hearts Club and Prom & Prejudice comes a story of all the drama and comedy of four friends who grow into themselves at a performing arts high school.

Chasing fame. Chasing love. Chasing a future.

Emme has long lived in her best friend Sophie's shadow. She writes songs, and Sophie sings them. It's always been like this, and feels like it always will be.

Sophie will stop at nothing to be a star. Even if it means using her best friend and picking up a trophy boyfriend, Carter.

Carter is a victim of a particular Hollywood curse: He's a former child star. Now all he wants is a normal life. But being normal is about as hard for him as being famous.

Ethan has his own issues -- a darkness in his head that he just can't shake. He's managed to sabotage every relationship he's ever been in. Emme's the only girl he's ever really respected . . . but he's not sure what to do about that.
About the Author
Elizabeth Eulberg was born and raised in Wisconsin before heading off to college in Syracuse and making a career in the New York City book biz. She is the author of The Lonely Hearts Club, Prom and Prejudice, and Take a Bow, as well as Revenge of the Girl with the Great Personality. You can find her on the Web at www.elizabetheulberg.com.
Praise For Take a Bow…
Praise for Prom & Prejudice:

"Eulberg delivers a fun, frothy romp that delights" - Kirkus Reviews

"A clever, modern romance." - Publishers Weekly

Praise for The Lonely Hearts Club:

"A must-read for anyone who's ever fallen in love--or sworn it off completely. A funny, fantastic debut!" - Stephenie Meyer, author of The Twilight Saga

"A spirited debut" – Kirkus Reviews

"The Lonely Hearts Club turns the world of teen dating upside-down, proving that a girl can ignore 'the rules' and still land squarely, happily, and hiliariously on her feet." – Lauren Myracle, author of ttyl