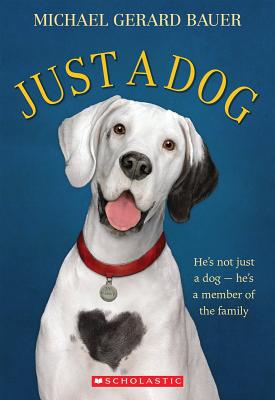 Just a Dog (Paperback)
Scholastic Paperbacks, 9780545374538, 135pp.
Publication Date: August 26, 2014
Other Editions of This Title:
Hardcover (12/1/2012)
* Individual store prices may vary.
Description
Sometimes a dog isn't just a dog--sometimes he's the glue the holds a whole family together.
Mr. Mosely is a special dog. Not just because he's so big (he's part Great Dane.) Not just because he's all white (with one black spot under his eye and a heart shaped splotch on his chest.) Not just because he's clumsy, or because of tricks (he only knows one, and it's not very good.) He's special because he seems to know exactly what everyone in Corey's family needs, even when they don't know themselves. This is the story of Mr. Mosely, from his puppyhood to the last time he curls up on the back porch. It's the story of how sometimes a dog isn't -just a dog-. Sometimes he's the glue the holds a whole family together.
About the Author
Michael Gerard Bauer's first book was THE RUNNING MAN and was named the 2005 Children's Book Council of Australia Book of the Year for Older Readers. Michael lives in Brisbane, Australia. He grew up with two dogs, Penny and Kim (and Kim's nine puppies), and includes many of their stories in JUST A DOG.
or
Not Currently Available for Direct Purchase