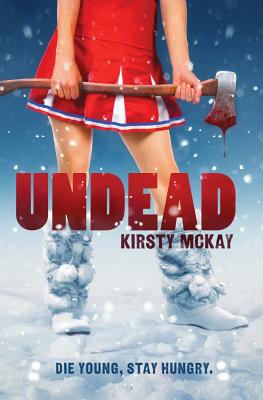 Undead (Paperback)
Chicken House, 9780545381895, 288pp.
Publication Date: July 30, 2013
Other Editions of This Title:
Hardcover (9/1/2012)
Paperback (9/1/2011)
* Individual store prices may vary.
Description
Now in paperback! When the rest of the class goes all brain-dead on new girl Bobby, it's a school-trip splatter-fest and completely not cool!

On the way home from the ski trip, when the bus comes to a stop at a roadside restaurant, everyone gets off and heads in for lunch. Everyone, that is, except Bobby, the new girl, who stays behind with rebel-without-a-clue Smitty.

Then hours pass. Snow piles up. Sun goes down. Bobby and Smitty start to flirt. And to stress a bit, too. Till finally they see the other kids stumbling back.

But they've changed. And not in a good way. Straight up, they're zombies. So the wheels on the bus better go round and round freakin' fast, because that's the only thing keeping Bobby and Smitty from becoming their classmates' next meal. It's kill or be killed in these hunger games, heads are gonna roll, and homework is most definitely gonna be late.

Combining the chill of THE SHINING, the thrill ride of SPEED, the humor of SHAUN OF THE DEAD, and the angst of THE BREAKFAST CLUB, Kirsty McKay's UNDEAD is a bloody mad mash-up, a school-trip splatter-fest, a funny, gory, frighteningly good debut!
About the Author
KIRSTY McKAY, born in the UK, now lives in Boston, Massachusetts. She has written and acted in several children's plays for regional theater. UNFED is the sequel to her debut novel, UNDEAD. Visit her website at www.kirstymckay.com and follow her on Twitter @kirkybean.
Praise For Undead…
Praise for UNDEAD

"Fast, furious, freaky, funny, and seriously sick." -- CHARLIE HIGSON, author of the ENEMY series

"A hilarious and lively mix of cunning, bravery, and tomfoolery...Bobby's narration is spiked with wit and perceptive snarkiness...First-rate fun." -- SCHOOL LIBRARY JOURNAL

"McKay plays her tale for maximum snark...humor and action keep the pages turning...Blood spurts; entrails drag; body parts shed; hearts (living ones) throb -- it's all good, gory fun." -- KIRKUS

"The typical school-centered zombie story is given a fabulous reboot in McKay's debut novel...The perfect balance of humor and horror...will have readers alternately biting their nails and snorting with laughter...A fun, pulse-pounding addition to the zombie genre." -- VOYA

"Fun to devour." -- BOOKLIST

"Loved the black humor. Think SHAUN OF THE DEAD in the Scottish wilderness." -- THE BOOKSELLER UK