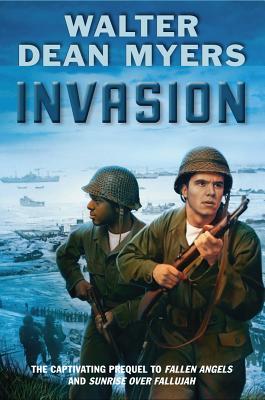 Invasion (Hardcover)
Scholastic Press, 9780545384285, 224pp.
Publication Date: September 24, 2013
Other Editions of This Title:
Digital Audiobook (9/23/2013)
Paperback (4/28/2015)
* Individual store prices may vary.
Description
Walter Dean Myers brilliantly renders the realities of World War II.

Josiah Wedgewood and Marcus Perry are on their way to an uncertain future. Their whole lives are ahead of them, yet at the same time, death's whisper is everywhere.

One white, one black, these young men have nothing in common and everything in common as they approach an experience that will change them forever.

It's May 1944. World War II is ramping up, and so are these young recruits, ready and eager. In small towns and big cities all over the globe, people are filled with fear. When Josiah and Marcus come together in what will be the greatest test of their lives, they learn hard lessons about race, friendship, and what it really means to fight. Set on the front lines of the Normandy invasion, this novel, rendered with heart-in-the-throat precision, is a cinematic masterpiece. Here we see the bold terror of war, and also the nuanced havoc that affects a young person's psyche while living in a barrack, not knowing if today he will end up dead or alive.
About the Author
Walter Dean Myers is the 2012 - 2013 National Ambassador for Young People's Literature. He is the critically acclaimed NEW YORK TIMES bestselling author an award-winning body of work which includes SOMEWHERE IN THE DARKNESS, SLAM!, and MONSTER. Mr. Myers has received two Newbery Honor medals, five Coretta Scott King Author Book Awards, and three National Book Award Finalist citations. In addition, he is the winner of the first Michael L. Printz Award. He lives in Jersey City, New Jersey.

Praise For Invasion…
Praise for FALLEN ANGELS

[star] "War-story fans will find enough action here, though it isn't glorified . . . Readers will be haunted." -- KIRKUS REVIEWS, starred review

[star] "A riveting account of the Vietnam War." -- SCHOOL LIBRARY JOURNAL, starred review

[star] "This gut-wrenching Vietnam War novel . . . breaks uncharted ground." -- BOOKLIST, starred review

Praise for SUNRISE OVER FALLUJAH

"Astonishing." -- THE NEW YORK TIMES BOOK REVIEW

"Superb." -- SAN FRANCISCO CHRONICLE

Praise for THE GLORY FIELD

[star] "This series of resonant stories shows how each generation comes of age by taking a stand against oppression. In his typically taut, economic prose, Myers illuminates shadowy corners of history." -- PUBLISHERS WEEKLY, starred review

[star] "A stunning novel . . . a must read for absolutely everyone." -- KIRKUS REVIEWS, starred review
"When Josiah "Woody" Wedgwood enlists in the army, he is immediately sent to England to prepare for the Normandy invasion, harboring only vague ideas about the nature of war. But when he lands on the beach in France, the reality of battle hits him. "We are at the water's edge. A soldier runs past us onto the sand. Suddenly he falls to his knees and clutches his belly. As his body bends forward, I see the bullets rip into his bowed back. We move away from him. Move away from the terrible bullets." Facing terror, Woody questions what he's doing, makes desperate pleas to God, and worries about when and where to go to the bathroom. The brutal battle scenes and wartime musings are vividly told. But there's also a sense of the times, such as the naive feelings Woody has for a girl back home or the racist and xenophobic attitudes among his fellow soldiers in the 29th Infantry Division. These Myers delivers, along with his themes, subtly through Woody's matter-of-fact observations as his ragged battalion fights its way through Normandy. Woody, who is white, volunteered with hometown acquaintance (and important wartime friend) Marcus Perry, Robin Perry's grandfather in Sunrise over Fallujah (rev. 5/08) and Richard Perry's uncle in Fallen Angels (rev. 7/88). Marcus, a black soldier, faces grave danger driving a truck but doesn't participate in direct combat (although the book jacket art seems to belie this fact); in 1944, troops were segregated and menial jobs frequently relegated to black soldiers. And this was the Good War." - Betty Carter, Hornbook Magazine starred review
Booklist Starred Review
It's June 6, 1944, D-Day, and 19-year-old Josiah (Woody) Wedgewood is part of the Allied Invasion, huddled up with a group of other men against the cliffs on Omaha Beach. "We are in a killing zone," he thinks in agony, "and we are dying." All around him is a scene from hell: the beach filled with the dead and dying; more soldiers being mercilessly shot by the Germans as they attempt to land on the beach; the noise of war, shots and explosions ,so loud that Woody can't hear the screams all around him. "I will never be the same again," he thinks. Myers' excellent prequel to his two other war novels, Fallen Angels (1988) and Sunrise over Fallujah (2008), charts the course of war in the month following the invasion as Woody, who tells the compelling story in his own first-person voice, and his comrades continue to fight through the countryside in pursuit of the Germans. The reader sees the fear, confusion, horror, and brutality of war through Woody's eyes. In a subplot involving Woody and his African American friend Marcus, the reader is also acquainted with the ugly segregation that was a daily fact of life during WW II. In Invasion, Meyrs has done peace an inestimable service by showing so vividly what a truly terrible idea war is.