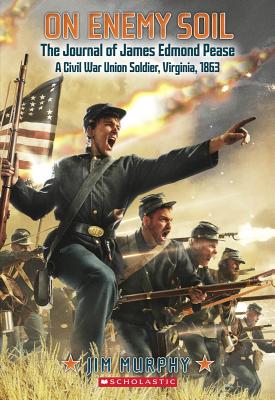 On Enemy Soil
Journal of James Edmond Pease, a Civil War Union Soldier
Paperback

* Individual store prices may vary.
Description
The Civil War JOURNAL OF JAMES EDMOND PEASE is now in paperback with an exciting repackaging!

Ignorant to the bitter realities of military life, 16-year-old James enlists in the Union Army at the dawn of the Civil War. When his lieutenant assigns him to be the company historian of the G Company of the 122nd Regiment, New York Volunteers, he is initially at a loss as to what exactly he is supposed to record. As the days pass, James settles into his role, but he cannot take comfort in it. His country is divided by a bloody war, and his unit struggles through the hardships and turmoil. Through his journal entries, James poignantly captures the terror of battle, the drudgery of day-to-day life in the infantry, the loss of comrades, and the disillusionment of a young soldier.
Scholastic Inc., 9780545398879, 176pp.
Publication Date: September 1, 2012
About the Author
Jim Murphy is the celebrated author of more than thirty-five books for young readers, most notably TRUCE: THE DAY THE SOLDIERS STOPPED FIGHTING and THE GREAT FIRE, a Newbery Honor Winner. His carefully researched, engaging, and elegantly written nonfiction has garnered the most prestigious awards in the field. He lives in Maplewood, New Jersey, with his wife and their two sons.