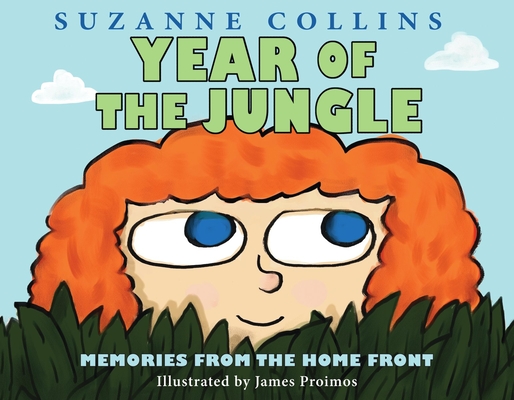 Year of the Jungle (Hardcover)
Scholastic Press, 9780545425162, 40pp.
Publication Date: September 10, 2013
* Individual store prices may vary.
Description
NEW YORK TIMES bestselling author Suzanne Collins has created a deeply moving autobiographical picture book about a father who must go off to the war in Vietnam -- and the daughter who stays behind. When young Suzy's father leaves for Vietnam, she struggles to understand what this means for her and her family. What is the jungle like? Will her father be safe? When will he return? The months slip by, marked by the passing of the familiar holidays and the postcards that her father sends. With each one, he feels more and more distant, until Suzy isn't sure she'd even recognize her father anymore. This heartfelt and accessible picture book by Suzanne Collins, the NEW YORK TIMES bestselling author of the Hunger Games series, is accompanied by James Proimos's sweet and funny illustrations. This picture book will speak to any child who has had to spend time away from a parent.
About the Author
Suzanne Collins is the author of the groundbreaking Hunger Games trilogy for young adults: The Hunger Games, Catching Fire, and Mockingjay. She is also the author of an upcoming picture book, Year of the Jungle, and the New York Times bestselling Underland Chronicles series for middle grade readers, which started with Gregor the Overlander. Suzanne lives with her family in Connecticut. You can find her online at suzannecollinsbooks.com. James Proimos is the creator of Swim! Swim!, Knuckle and Potty Destroy Happy World, 12 Things to do Before You Crash and Burn, and many more books for children of all ages. He lives on a farm outside of Baltimore, Maryland, with his wife and their horses, cats, and dogs. Learn more at jamesproimos.blogspot.com.
Praise For Year of the Jungle…
Praise for Suzanne Collins's work:

"Collins writes with raw power." -- TIME Magazine

Praise for James Proimos's work:

Imaginative and humorous"-- PUBLISHERS WEEKLY

"Proimos's light cartoon art and plotline carry some weighty themes." -- SCHOOL LIBRARY JOURNAL


"In her first picture book, Collins sensitively examines the impact of war on the very young, using her own family history as a template. Suzy is the youngest of four children—Proimos draws her with impossibly big, questioning blue eyes and a mass of frizzy red hair—and she is struggling to understand the changes in her family. ?My dad has to go to something called a war,? she explains. ?It's in a place called Viet Nam. Where is Viet Nam? He will be gone a year. How long is a year? I don't know what anybody's talking about.? When Suzy learns that her father is in the jungle, she imagines something akin to the setting of her favorite cartoon (Collins suggests it's George of the Jungle). As the months wear on, though, Suzy begins to piece together the danger her father is in, whether it's through the increasingly unnerving postcards he sends (one reads, ?Pray for me,? in closing) or by catching a snippet of wartime violence on the news. ?Explosions. Helicopters. Guns. Soldiers lie on the ground. Some of them aren't moving.? In four wordless spreads, Proimos makes Suzy's awakening powerfully clear, as the gray jungle she initially pictured (populated by four smiling, brightly colored animals) gives way to a more violent vision, as the animals morph into weapons of war. Just when Suzy's confusion and fear reach an apex: ?Then suddenly my dad's home.? As in Collins's Hunger Games books, the fuzzy relationship between fear and bravery, and the reality of combat versus an imagined (or, in the case of those books, manufactured) version of it is at the forefront of this story. By the final pages, Suzy has come to understand that ?Some things have changed but some things will always be the same.? It's a deceptively simple message of reassurance that readers who may currently be in Suzy's situation can take to heart, whether their loved ones return changed, as hers did, or don't return at all. " - Publishers Weekly starred review