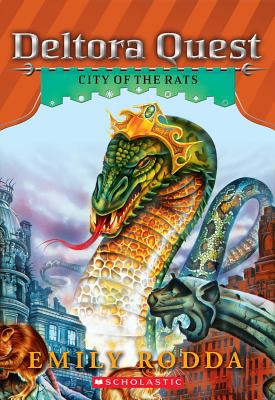 Deltora Quest #3: City of the Rats (Paperback)
City of the Rats
Scholastic Inc., 9780545460224, 160pp.
Publication Date: June 1, 2012
Description
The international bestselling series returns for a new generation with a fresh look and bonus content from the legends of Deltora.


Lief, Barda, and Jasmine--three companions with nothing in common but their hatred of the enemy--are on a perilous quest to recapture the seven lost gems of the magic Belt of Deltora. Only when the Belt is complete can the evil Shadow Lord be overthrown.

They have succeeded in finding the golden topaz and the great ruby. The two gems' mysterious powers have strengthened them and given them courage to move on in their search for the third stone. But none of them can know the horrors that await them in the forbidden City of the Rats.
About the Author
Emily Rodda is the author of the hugely successful Deltora Quest series, with over two million copies in print. Winner of the Children's Book Council of Australia's Book of the Year (Younger Readers) Award a record five times, she seems to know instinctively what children want to read. She currently lives in Sydney, Australia.
Advertisement