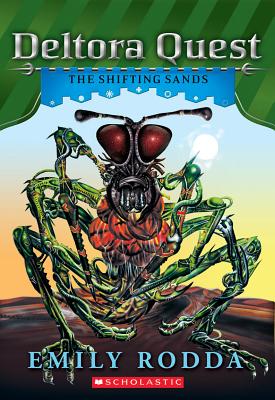 Deltora Quest #4: The Shifting Sands (Paperback)
The Shifting Sands
Scholastic Inc., 9780545460231, 160pp.
Publication Date: June 1, 2012
Description

The international bestselling series returns for a new generation with a fresh look and bonus content from the legends of Deltora.
When the seven gems of the magic Belt of Deltora were stolen, the evil Shadow Lord invaded the kingdom and enslaved its people. Determined to rid their land of the tyrant, Lief, Barda, and Jasmine are on a dangerous quest to find the lost gems, which are hidden in fearsome places throughout the kingdom. The time has come to seek the fourth gem, kept jealously by an unknown guardian in a barren wasteland. Separation, confusion, and strange, terrible enemies await the three heroes in the harsh landscape of the Shifting Sands.

About the Author
Emily Rodda is the author of the hugely successful Deltora Quest series, with over two million copies in print. Winner of the Children's Book Council of Australia's Book of the Year (Younger Readers) Award a record five times, she seems to know instinctively what children want to read. She currently lives in Sydney, Australia.
Advertisement