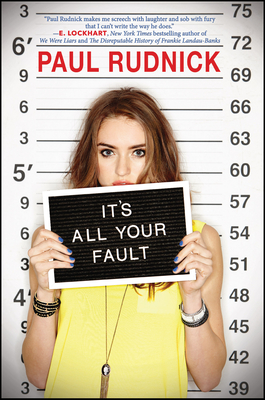 It's All Your Fault
Hardcover

* Individual store prices may vary.
Other Editions of This Title:
Digital Audiobook (1/1/2016)
Paperback (1/31/2017)
MP3 CD (1/31/2017)
Description
"Paul Rudnick makes me lie hysterical on the floor, screeching with laughter and sobbing with fury that I can't write the way he does." -- E. Lockhart, author of We Were Liars and The Disreputable History of Frankie Landau-BanksUp until forty-eight hours ago, Caitlin had never:Tasted alcohol, kissed a boy, sang in public at the top of her lungs, kidnapped anyone or --- WHAT? STOLEN A CONVERTIBLE?Now she's in jail and has no idea what to tell:The police, her parents, the mayor, all of those camera crews and everyone on Twitter.She has just noticed that:Her nose is pierced and -- WAIT? IS THAT A TATTOO?She blames one person for the entire insane weekend:Her famous cousin.Who is also her former best friend.Who she has HATED for the past four years.Who she also might miss like crazy.IT'S ALL YOUR FAULT, HELLER HARRIGAN!!!!
Praise For It's All Your Fault…
Praise for It's All Your Fault:
"Paul Rudnick is one of the funniest people out there and he's on fire with It's All Your Fault. This book is as fun and crazy as a wild night out. I had to know what happened next." – Andy Cohen, host of Watch What Happens Live and New York Times bestselling author of The Andy Cohen Diaries: A Deep Look at a Shallow Year
"Caution: Do not read in public. Will cause you to laugh (and possibly cry) out loud, sometimes at the same time. Screamingly funny and yet warmly touching. Buy multiple copies: You'll want to share this one with friends." – Meg Cabot, #1 New York Times bestselling author of the Princess Diaries and Mediator series
*"A culture clash on steroids. Rudnick's affection for his flawed characters lends emotional depth to the skillful satire. Targets skewered include the symbiotic culture of narcissism binding celebrities and their fans, teen literary clichés, and Brooklyn. Hilarious, irresistible, and oh so timely." – Kirkus Reviews, starred review
"A laugh-out-loud, irreverent tale built on as much snarkiness as sweetness. Rudnick expertly melds the good and the bad of youth and Hollywood without going unbelievably over the edge. Eschewing common sense and exhibiting a great deal of heart, this is one riotously good read." – Booklist
"A whirlwind, laugh-a-minute escapade about a girl swept far outside her comfort zone, with real heart beneath the acid humor." – Publishers Weekly
Praise for Gorgeous:
"Gleefully wacky and irreverent . . . readers are treated to Rudnick's considerable talents as a satirist as he uproariously eviscerates our celebrity-mad, class-conscious, appearance-obsessed, reality-TV-vapid culture with puckish delight . . . a wicked good time, with moments both outlandish and touching. And as a summer beach read? Well, it's perfect." -- Libba Bray, New York Times Book Review
"When I wasn't laughing out loud (which was often), I was wiping away a tiny tear."
-- Meg Cabot, bestselling author of The Princess Diaries series
"Paul Rudnick is a champion of truth and love and great wicked humor, whom we ignore at our peril." -- David Sedaris, bestselling author of Me Talk Pretty One Day
"Rudnick's first Y.A. novel is full of magic, snark, style, heart, and hilarity." -- The Atlantic Wire
Huffington Post's Five Things We're Into This Week
"Paul Rudnick's generous, open heart, scathing wit, encyclopedic knowledge of pop culture and droll humor are all in force in his latest creation, Gorgeous, which is aptly named. I absolutely adored this book and snort-laughed through the entire thing. You will too." -- Melissa de la Cruz, bestselling author of the Blue Bloods series
"Paul Rudnick's young adult debut, Gorgeous, is not a fairy tale. "Because in real life, fairy tales always end badly." What it is is a satire sharp as a stiletto heel that takes on celebrity culture, the fashion industry, consumerism, and princess stories. Oh, and it's wickedly hilarious." -- Boston Globe
*"With writing that's hilarious, profane, and profound (often within a single sentence), Rudnick casts a knowing eye on our obsession with fame, brand names, and royalty to create a feel-good story about getting what you want without letting beauty blind you to what's real." -- Publishers Weekly, starred review
"Acute, wickedly funny observations on appearance and identity punctuate this sprawling, caustic fairy tale that cheerfully skewers the fashion and film worlds and their celebrity-culture spawn. . . . A Cinderella story with a difference, Becky's journey to reconcile her inner household drudge and outer princess starts where most fairy tales end." -- Kirkus Reviews
"Totally irreverent and wonderfully refreshing." -- RT Book Reviews
Scholastic Press, 9780545464284, 304pp.
Publication Date: January 26, 2016
About the Author
Paul Rudnick is a novelist, playwright, and screenwriter. His screenplays include Addams Family Values and In&Out, and he's written for Vogue, Entertainment Weekly, Vanity Fair, and the New Yorker. His plays have been produced both on and off Broadway and around the world and include I Hate Hamlet and Jeffrey. His first young adult novel was Gorgeous, which Libba Bray for the New York Times called "a wicked good time." Under the pen name Libby Gelman-Waxner, he is also the world's most beloved and irresponsible film critic. Paul lives in New York City.
or
Not Currently Available for Direct Purchase