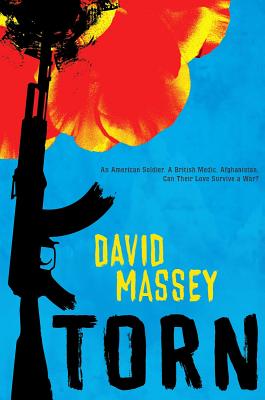 Torn
Hardcover

* Individual store prices may vary.
Description
Witnesses to a mystery on the battlefield, a British medic and an American Navy SEAL confront Afghanistan's fog of war.

In war-torn Afghanistan, a girl walks right into a hail of bullets: Elinor watches it with her own eyes. The young British army medic risks the line of fire to rescue her, only to realize the girl is gone.

To find the missing, mysterious child, Elinor enlists the help of an American Navy SEAL. But in all the confusion, with coalition troops fighting every day to maintain a fragile peace, does Ben have something to hide?

Elinor came to Afghanistan with the hope of changing hearts and minds: What she's about to discover will make her question everything she ever believed about love and war.

A war thriller. A cross-cultural love story with an undercurrent of magic realism. A powerful debut set in modern-day, battle-scarred Afghanistan. This is TORN.
Praise For Torn…
"David Massey's TORN compelled me to relive my Afghan war experience as if I were there again amid the heat and dust and fear. It's a story of love forged, lost, and regained amid the life-or-death intensity of war, but, much more than a war story, TORN shows readers the ghost of hope and desperate longing for peace that keeps pulling us back to Afghanistan. A powerful and important novel." -- Trent Reedy, author of WORDS IN THE DUST
"Vivid and terrifying action sequences light up this intense page-turner featuring a young British medic, Elinor, assigned to a forward operating base in Afghanistan. As if her oddly hostile tent mate, a weak commanding officer, ambush on patrol, and an RPG attack on the compound aren't challenges enough, the arrival of an American SEAL team, led by a disturbingly attractive lieutenant, sends Elinor's support unit deep into Taliban territory. The mission: to find both a secret arms cache and also a missing journalist and her teenage daughter, Aroush. But Elinor has already seen Aroush, walking unharmed through vicious firefights just before someone dies. Then she disappears—one of several mysteries that ultimately unfold into a tragic, ugly tale involving child warriors, an entire village massacred by drones, and corruption in high places.
Displaying the bravado to bill herself the "love child of House and Lara Croft," but more than just a standard-issue action hero, Elinor makes a winningly courageous, tough-minded protagonist-narrator who is nonetheless deeply affected by what she sees and experiences. Readers will be, too. (An afterword about "children of war" not seen.)" — John Peters, Booklist starred review
Chicken House, 9780545496452, 288pp.
Publication Date: July 30, 2013
About the Author
DAVID MASSEY's experience as an emergency supplies consultant to London's Metropolitan Police and its counter-terrorism unit helped inspire his debut novel, TORN. With his wife, David cofounded Globehuggers Emergency Supplies, a distributor of first aid and medical kits. He lives in the West Midlands of England. Friend him on Facebook at DRMasseyBooks and follow him on Twitter @DavidRMassey.