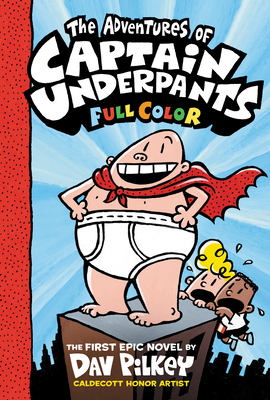 The Adventures of Captain Underpants (Hardcover)
Color Edition (Captain Underpants #1)
Scholastic Inc., 9780545499088, 144pp.
Publication Date: August 27, 2013
* Individual store prices may vary.
Description
Fourth-grade class clowns George Beard and Harold Hutchins have created the greatest superhero in the history of their elementary school -- and now they're going to bring him to life! Meet Captain Underpants! His true identity is SO secret, even HE doesn't know who he is!

This brand-new color edition includes an exclusive sixteen-page bonus section that reveals the TRUE origin of Captain Underpants!
About the Author
DAV PILKEY is the creator of many acclaimed children's books, including Dogzilla, Kat Kong, god bless the gargoyles, and the bestselling Captain Underpants series. His book The Paperboy received a Caldecott Honor. He lives in the Pacific Northwest. www.pilkey.com
DAV PILKEY is the creator of many acclaimed children's books, including Dogzilla, Kat Kong, god bless the gargoyles, and the bestselling Captain Underpants series. His book The Paperboy received a Caldecott Honor. He lives in the Pacific Northwest. www.pilkey.com
DAV PILKEY is the creator of many acclaimed children's books, including Dogzilla, Kat Kong, god bless the gargoyles, and the bestselling Captain Underpants series. His book The Paperboy received a Caldecott Honor. He lives in the Pacific Northwest. www.pilkey.com
DAV PILKEY is the creator of many acclaimed children's books, including Dogzilla, Kat Kong, god bless the gargoyles, and the bestselling Captain Underpants series. His book The Paperboy received a Caldecott Honor. He lives in the Pacific Northwest. www.pilkey.com
DAV PILKEY is the creator of many acclaimed children's books, including Dogzilla, Kat Kong, god bless the gargoyles, and the bestselling Captain Underpants series. His book The Paperboy received a Caldecott Honor. He lives in the Pacific Northwest. www.pilkey.com
Praise For The Adventures of Captain Underpants: Color Edition (Captain Underpants #1)…
The critics are CRAZY about UNDERPANTS!

"A triumph of irreverence." --NEWSWEEK

"Call Pilkey . . . the savior of the 'reluctant reader.' " --USA TODAY

"For every downtrodden fun-seeking kid who never wanted to read a book." --SCHOOL LIBRARY JOURNAL

"Subversively hilarious." --PUBLISHERS WEEKLY

"Celebrates the triumph of the good-hearted." --The Educational Book and Media Association

"It'll make kids laugh until soda comes out of their noses." --BULLETIN OF THE CENTER FOR CHILDREN'S BOOKS