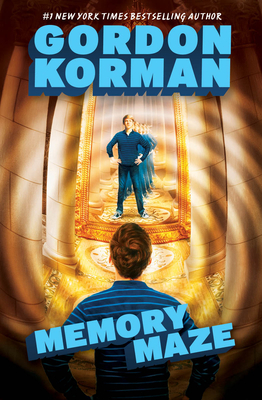 The Hypnotists Book 2 (Hardcover)
Memory Maze
Scholastic Press, 9780545503297, 240pp.
Publication Date: July 29, 2014
Other Editions of This Title:
CD-Audio (7/29/2014)
CD-Audio (7/29/2014)
* Individual store prices may vary.
Description
The second entry in an all-new, mesmerizing adventure from the masterful, #1 NEW YORK TIMES bestselling author Gordon Korman!

Jax Opus knows he's not like other kids. And it isn't his skill on the basketball court or his test scores that set him apart. No, Jax is different because he can hypnotize people. In fact, he might be the best hypnotist the world has seen in a very long time.

You would think Jax would be happy about this. But really? It's ruining his life. He and his family are hiding from a master hypnotist who wants Jax out of the picture . . . forever. And the FBI is also starting to ask questions about Jax and his abilities.

Jax thinks life might be getting a little better when a very rich, very powerful man asks him to help out with something. The reward will be great. And the price -- well, the price is that Jax starts taking on the man's memories. And some of them are pretty deadly.

#1 NEW YORK TIMES bestselling author Gordon Korman keeps the thrills coming and the adventure nonstop as the past and the present collide to build a memory maze that Jax Opus may never escape. . .

About the Author
Gordon Korman is the author of THE 39 CLUES BOOK 2: ONE FALSE NOTE, which debuted at #1 on the NEW YORK TIMES bestseller list, and THE 39 CLUES BOOK 8: THE EMPEROR'S CODE. Gordon has written more than sixty books for kids and young adults, including ZOOBREAK, SWINDLE, and SON OF THE MOB, as well as the On the Run series and the Island, Everest, Dive, and Kidnapped trilogies. A native of Ontario, Canada, Korman now lives with his family in Long Island, New York.
Praise For The Hypnotists Book 2: Memory Maze…
Praise for Gordon Korman's Swindle series:

-"Pure fun from top to bottom." -- SCHOOL LIBRARY JOURNAL

-"Korman's fast moving, feel-good suspense novel will have middle schoolers, especially boys, turning the pages." -- VOYA

-"Korman again knocks it out of the park . . . interesting, full of humor, and good fun." -- VOYA

-"Goofball-funny and addictive" -- KIRKUS REVIEWS