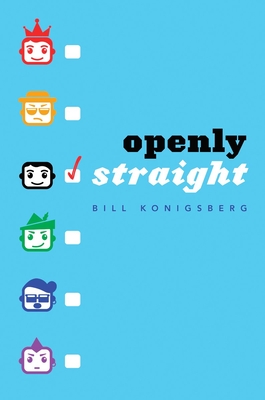 Openly Straight
Hardcover

* Individual store prices may vary.
Other Editions of This Title:
Paperback (4/28/2015)
Prebound (4/28/2015)
Description
A funny, honest novel about being out, being proud... and being ready for something else.
The award-winning novel about being out, being proud, and being ready for something else. Pre-order the companion novel Honestly Ben now (out 3/28/17)!

Rafe is a normal teenager from Boulder, Colorado. He plays soccer. He's won skiing prizes. He likes to write.

And, oh yeah, he's gay. He's been out since 8th grade, and he isn't teased, and he goes to other high schools and talks about tolerance and stuff. And while that's important, all Rafe really wants is to just be a regular guy. Not that GAY guy. To have it be a part of who he is, but not the headline, every single time.

So when he transfers to an all-boys' boarding school in New England, he decides to keep his sexuality a secret -- not so much going back in the closet as starting over with a clean slate. But then he sees a classmate breaking down. He meets a teacher who challenges him to write his story. And most of all, he falls in love with Ben... who doesn't even know that love is possible.
Praise For Openly Straight…
Praise for Openly Straight:

Winner of the Sid Fleischman Award for Humor
YALSA Best Fiction for Young Adults Selection
Lambda Literary Award Finalist

"Funny, unexpected, peppered with terrific dialogue -- and best of all, achingly honest." -- Ned Vizzini, author of It's Kind of a Funny Story and House of Secrets

"For anybody who ever wished they could be someone else (and who hasn't?), Openly Straight provides a fun and intriguing, twisting-and-turning romp through sexuality, identity, friendship, and love." -- Alex Sanchez, author of Rainbow Boys and Boyfriends with Girlfriends

"Bill Konigsberg hands a great high concept to a really compelling narrator and presents us with a terrific read. Openly Straight is smart, funny, and unflinching. Read this book." -- Chris Crutcher, author of Deadline, Whale Talk, and Period 8

"Konigsberg's lovely novel invites us to walk with Rafe through his season of assumed identity and his costly emergence into honesty. It's beautiful. It's a story of salvation." -- The New York Times Book Review

* "Lambda Literary Award-winner Konigsberg has written an exceptionally intelligent, thought-provoking, coming-of-age novel about the labels people apply to us and that we, perversely, apply to ourselves... Openly Straight is altogether one of the best gay-themed novels of the last ten years." -- Booklist, starred review

* "Readers and discussion groups looking for new and deeper ways to think about what it means to live honestly in a world that sorts by labels will find this fresh and evocative." -- The Bulletin of the Center for Children's Books, starred review

"For a thought-provoking, creative, twenty-first-century take on the coming-out story, look no further." -- The Horn Book Magazine

"An original, thought-provoking, hilarious story about the importance of embracing your true identity, and the cost to yourself and others when you don't." -- Julie Ann Peters, author of Luna and Keeping You a Secret

"Openly Straight sports a sharp plot with a twist, sympathetic (and totally hot) characters, and universal appeal. It's a must-read for openly everyone!" -- Lisa McMann, bestselling author of the Wake Trilogy

Praise for Honestly Ben:

"To characterize Honestly Ben (even though labeling feels so wrong after reading this book), I would first call it hilarious. But also touching! And absolutely necessary." -- Jay Asher, #1 New York Times bestselling author of Thirteen Reasons Why and What Light

* "Konigsberg has again done a remarkable job developing characters and inviting readers to consider the meaning of friendship with all its rewards and challenges. Extremely well written, this novel of ideas is deeply satisfying and as honest as its appealing protagonist." -- Booklist, starred review

* "Well-rounded characters take readers from serious, thoughtful discussions to typical teen pranks with ease . . . Equal parts serious and funny as it addresses homophobia, hazing rituals, and cheating while also delighting readers with a slice-of-life tale set at a private academy." -- School Library Journal, starred review

* "Konigsberg again realistically explores what happens when one's self butts up against . . . the world's expectations and assumptions . . . The result is a refreshingly honest exploration of modern relationships and an understanding that love can take many shapes and forms." -- Publishers Weekly, starred review

"Honestly Ben is funny, complex, joyful, heartbreaking, and exceedingly wise all at once. A teenager with any question about the right way to live couldn't ask for a better read." -- Geoff Herbach, author of Anything You Want and Stupid Fast

"It's hard to write a good sequel, keeping what people loved about the first book, but adding something fresh and new. Not surprisingly, Bill Konigsberg pulls it off wonderfully in Honestly Ben." -- Brent Hartinger, author of Geography Club and Three Truths and a Lie

Praise for The Porcupine of Truth:

Winner of the Stonewall Book Award
Winner of the PEN Center USA Literary Award for Children's/Young Adult
A YALSA Best Fiction for Young Adults Selection

"Words like 'brilliant' are so overused when praising novels--so I won't use that word. I'll just think it." -- Benjamin Alire Sáenz, author of Aristotle and Dante Discover the Secrets of the Universe

"Bill Konigsberg's The Porcupine of Truth is at once heartwarming and heartbreaking, a funny and thought-provoking road trip with remarkable friends Carson and Aisha, who share tough lessons about mending fractures, forging bonds, and discovering grace. Undeniably human and unforgettably wise, this book is a gift for us all." -- Andrew Smith, author of Grasshopper Jungle and Winger

* "Konigsberg weaves together a masterful tale of uncovering the past, finding wisdom, and accepting others as well as oneself." -- School Library Journal, starred review

* "Konigsberg... crafts fascinating, multidimensional teen and adult characters. A friendship between a straight boy and a lesbian is relatively rare in YA fiction and is, accordingly, exceedingly welcome." -- Booklist, starred review

"Equal parts funny and profound." -- Kirkus Reviews
"Rafe has been out and proud since eighth grade, and it was fine: his school friends were cool, his parents threw him a party, and his mother has become the president of Boulder's PFLAG chapter. All this has become rather tiresome, though, and Rafe longs for a life without labels, where people can see him as Rafe before they see him as the gay kid. He hatches a plan to attend a posh boys' boarding school out east where he can start fresh. Though initially perplexed, his parents and his best friend ultimately support him as he explores life in boyworld where his orientation is not a barrier to his being fully accepted by the jocks as well as the geeks. He develops an intensely intimate relationship with a sensitive jock named Ben that leads to his falling in love, however, and he realizes that true intimacy has to start and end with honesty. This unusual treatment of the subject of labels, integrity, and the role of sexuality in identity forthrightly explores life after homophobia; no one in Rafe's life is troubled by his sexuality, but that doesn't completely answer the question of when and under what circumstances his orientation is relevant. A creative writing teacher pushes Rafe to explore what he's doing and why, and his comments on Rafe's writing, while not preachy, offer some clear lessons, as do Rafe's honest and painful reflections after he and Ben take their relationship as far as it can go in the context of Rafe's omission. An important but subtle undercurrent here is that Rafe is an introvert in a family and culture that expect him to be more open about everything in his life; this aspect of his character is not explicitly named as such, but astute readers will come to see it as fundamental to all of the things he does explore, such as his tendency to carefully manage his self-exposure in his writing. Readers and discussion groups looking for new and deeper ways to think about what it means to live honestly in a world that sorts by labels will find this fresh and evocative." - The Bulletin of the Center for Children's Books starred review
Arthur A. Levine Books, 9780545509893, 336pp.
Publication Date: May 28, 2013
About the Author
Bill Konigsberg is the author of six books for young adults, which have won awards including the Stonewall Book Award, the Sid Fleischman Award for Humor, and the Lambda Literary Award. Bill lives with his husband, Chuck, and their two Labradoodles, Mabel and Buford. Please visit him online at billkonigsberg.com and @billkonigsberg.