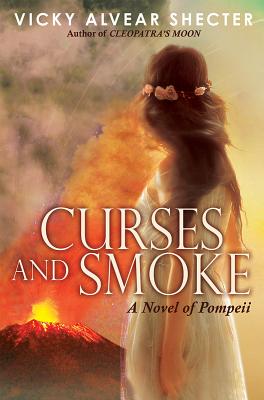 Curses and Smoke (Hardcover)
A Novel of Pompeii
Arthur A. Levine Books, 9780545509930, 336pp.
Publication Date: May 27, 2014
* Individual store prices may vary.
Description
TAG is a medical slave, doomed to spend his life healing his master's injured gladiators. But his warrior's heart yearns to fight in the gladiator ring himself and earn enough money to win his freedom.

LUCIA is the daughter of Tag's owner, doomed by her father's greed to marry a much older Roman man. But she loves studying the natural world around her home in Pompeii, and lately she's been noticing some odd occurrences in the landscape: small lakes disappearing; a sulfurous smell in the air. . . .

When the two childhood friends reconnect, each with their own longings, they fall passionately in love. But as they plot their escape from the city, a patrician fighter reveals his own plans for them -- to Lucia's father, who imprisons Tag as punishment. Then an earthquake shakes Pompeii, in the first sign of the chaos to come. Will they be able to find each other again before the volcano destroys their whole world?
About the Author
Vicky Alvear Shecter is the author of CLEOPATRA'S MOON, the winner of the SCBWI Crystal Kite Award, and three nonfiction books for young readers, most recently ANUBIS SPEAKS! A GUIDE TO THE AFTERLIFE BY THE EGYPTIAN GOD OF THE DEAD. A docent in the Ancient History department of the Carlos Museum of Art, she lives near Atlanta, Georgia. Please visit her website at www.vickyalvearshecter.com or follow her on Twitter at @valvearshecter.
Praise For Curses and Smoke: A Novel of Pompeii…
Praise for Cleopatra's Moon:

An Entertainment Weekly "Must List" Pick

"Absorbing … Cleopatra Selene becomes a woman with a tenacity and heart that would have made her famous mother proud." – The Wall Street Journal

"The novel's atmospheric setting and romantic intrigue are highly memorable." -- Publisher's Weekly

"A fascinating take on a neglected historical figure." -- Booklist