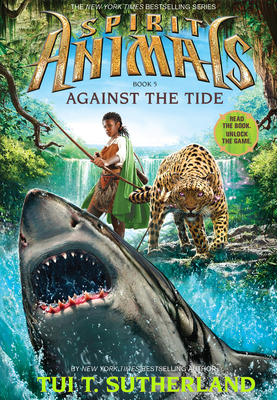 Spirit Animals (Hardcover)
Book 5: Against the Tide
Scholastic Inc., 9780545522472, 192pp.
Publication Date: September 30, 2014
Other Editions of This Title:
Hardcover (9/30/2014)
CD-Audio (9/30/2014)
CD-Audio (9/30/2014)
* Individual store prices may vary.
Description
The adventure continues in this fifth book in the New York Times bestselling series.

The sun is shining in the Hundred Isles, and yet the path forward seems crowded with shadows. Conor, Abeke, Meilin, and Rollan have traveled across the world, seeking a set of powerful talismans in order to keep them from enemy hands. Throughout their journey the young heroes have been hounded by pursuers, who always seem to know just where to find them. Now they know why.

One of them is a traitor.

As they steer the crystal blue waters of this tropical paradise, the team can't help but suspect each other. There's a spy in their midst, and before this mission is over, a deadly trap will close around them.
About the Author
Tui T. Sutherland is the author of several books for young readers, including the Menagerie trilogy, the Pet Trouble series, and three books in the bestselling Seekers series (as part of the Erin Hunter team). In 2009, she was a two-day champion on JEOPARDY! She lives in Massachusetts with her wonderful husband, two adorable sons, and one very patient dog. To learn more about Tui's books, visit her online at www.tuibooks.com.