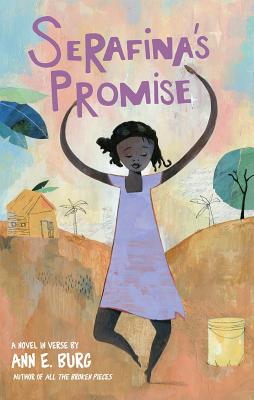 Serafina's Promise (Hardcover)
Scholastic Press, 9780545535649, 304pp.
Publication Date: September 24, 2013
Other Editions of This Title:
Paperback (7/28/2015)
Prebound (7/28/2015)
* Individual store prices may vary.
Description
A luminous novel in verse from the author of the Jefferson Cup award winner ALL THE BROKEN PIECES.


Serafina has
a secret dream.

She wants to go to school
and become a doctor
with her best friend, Julie Marie.

But in their rural village
outside Port-au-Prince, Haiti,
many obstacles
stand in Serafina's way--
little money,
never-ending chores,
and Manman's worries.

More powerful even
than all of these
are the heavy rains
and the shaking earth
that test Serafina's resolve
in ways she never dreamed.

At once heartbreaking and hopeful,
this exquisitely crafted story
will leave a lasting impression
on your heart.
About the Author
Ann Burg's debut novel, ALL THE BROKEN PIECES, was named a Jefferson Cup award winner and an IRA Notable Book for a Global Society, among its many honors. Burg worked as an English teacher for ten years before becoming a full-time writer. She lives in Rhinebeck, New York, with her family. You can visit her online at www.annburg.com
Praise For Serafina's Promise…
Praise and Reviews for ALL THE BROKEN PIECES:



Jefferson Cup award winner

BOOKLIST Editors' Choice

ALA Best Books for Young Adults

IRA Notable Book for a Global Society

ALA Popular Paperback for Young Adults



*"[A] stirring debut novel . . . will make readers want to rush to the end and then return to the beginning again to make connections between past, present, friends and enemies."--BOOKLIST, starred review



*"The verse form carries highly charged emotions and heavy content with elegiac simplicity."--KIRKUS, starred review



*"Using spare free verse, first-time novelist Burg beautifully evokes the emotions of a Vietnamese adoptee as he struggles to come to terms with his past."--PUBLISHERS WEEKLY, starred review



"...the story is a lovely, moving one."--SCHOOL LIBRARY JOURNAL


"Eleven-year-old Serafina has a dream: to go to school and become a doctor. Yet her life outside of Port-au-Prince, Haiti, is filled with urgent chores and responsibilities.
A natural healer, Serafina has already witnessed the loss of baby brother Pierre to disease and hunger, wishing she could have done more to save him. Now Manman is about to have another baby. How will her family ever do without Serafina's help or afford her school uniform? Burg uses gentle language and graceful imagery to create the characters that make up Serafina's loving family—Papa, Manman and Gogo, her wise grandmother. (Sadly, Granpè was taken away long ago by the Tonton Macoutes.) Told in first-person verse appealing to both reluctant and passionate readers, the novel is woven with Haitian history, culture and Creole phrases. Readers will root for this likable heroine as she overcomes obstacles—poverty, family obligations, the catastrophic 2010 earthquake—in her effort to emulate her mentor, Antoinette Solaine, the physician who tried to save Pierre. The spirit of the text's celebration of the power of determination, family, friendship and love is ably captured in Sean Quall's delightful cover art.
Lilting, lyrical and full of hope." -
Kirkus
starred review