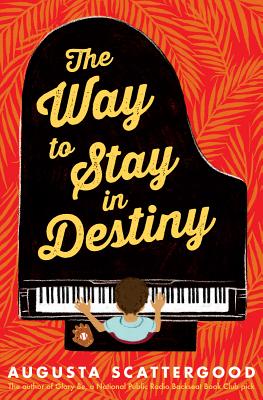 The Way to Stay in Destiny (Hardcover)
Scholastic Press, 9780545538244, 192pp.
Publication Date: January 6, 2015
Other Editions of This Title:
Digital Audiobook (5/31/2015)
Paperback (5/10/2016)
CD-Audio (1/6/2015)
CD-Audio (1/6/2015)
Pre-Recorded Audio Player (1/1/2015)
* Individual store prices may vary.
Description
From the author of the acclaimed Glory Be, a novel that celebrates baseball, fast piano, and small-town living in the wake of the Vietnam War. 
When Theo gets off a bus in Destiny, Florida, he's left behind the only life he's ever known. Now he's got to live with Uncle Raymond, a Vietnam War vet and a loner who wants nothing to do with this long-lost nephew. Thank goodness for Miss Sister Grandersole's Boarding House and Dance School. The piano that sits in Miss Sister's dance hall calls to Theo. He can't wait to play those ivory keys. When Anabel arrives things get even more enticing.  This feisty girl, a baseball fanatic, invites Theo on her quest to uncover the town's connection to old-time ball players rumored to have lived there years before. A mystery, an adventure, and a musical exploration unfold as this town called Destiny lives up to its name.
Acclaimed author Augusta Scattergood has delivered a straight-to-the-heart story with unforgettable characters, humor, and hard questions about loss, family, and belonging. 
About the Author
Former librarian and children's book reviewer Augusta Scattergood has devoted her life and career to getting books into the hands of young readers. Her reviews and articles have appeared in THE CHRISTIAN SCIENCE MONITOR, DELTA MAGAZINE, the ST. PETERSBURG TIMES, and other publications. Additionally, Augusta is an avid blogger. Please visit her at www.augustascattergood.com. She lives in St. Pete Beach, Florida.
Praise For The Way to Stay in Destiny…
Praise for The Way to Stay in Destiny:
 
"A well-crafted novel that explores such challenging themes as enduring the impact of war on families, establishing a new life, and understanding what love truly means, this will connect well with middle school readers." --Booklist
 
"With an eye and ear for period details and dialogue, Scattergood (Glory Be) builds a cast of memorable, realistically flawed characters in an affecting story about holding on to one's dreams." --Publishers Weekly
 
"A heartwarming story of friendship, family, and finding one's place in the world despite hardship and heartache." --School Library Journal


Praise for Making Friends with Billy Wong:
 
"Scattergood paints an honest portrait of two young characters dealing with quick judgments, prejudice, and racism . . . A refreshing novel inspired by real-life Chinese-American communities not often seen in stories." --Kirkus Reviews
 
"In a quiet story set in 1952, Scattergood shines a light on a rarely told bit of history . . . Azalea's narration is interspersed with occasional entries from Billy's perspective, written in verse, that show his strength of character and desire to succeed, despite facing clear challenges in the segregated South." --Publishers Weekly
 
"The characters are finely drawn, and the period elements are smoothly incorporated into the narrative. The author's extensive research on the time and place comes through in the details." --School Library Journal


Praise and Accolades for Glory Be:
 
A NPR "Backseat Book Club" selection
 
Featured on NPR's "Weekend Edition" with Scott Simon
 
A Texas Bluebonnet Award Nominee
 
"There's a whiff of Carson McCullers in Augusta Scattergood's story of a sultry Southern summer long ago when the outside world moved all the markers of Glorianna Hemphill's growing up.  It's a summer of bigotry and beehive hairdos, of sit-ins and dangerous boys.  All mixed together and beautifully recalled." --Richard Peck, Newbery Award-winning author of A Year Down Yonder
 
"Glory Be is a lovely debut novel for younger readers, akin to Kathryn Stockett's The Help--an important read that raises powerful racial issues of the 1960s American South." --Kathryn Erskine, National Book Award-winning author of Mockingbird
 
"Glory Be weaves a seamless story of sisterly love, broken friendships, and the strength that it takes to stand up for the right thing.  Augusta Scattergood is at the top of my debut-authors-to-watch list." --Barbara O'Connor, Parents' Choice Award-winning author of How to Steal a Dog
 
"In Glory herself, tilting on the threshold of adolescence, Scattergood paints a balanced portrait of childlike self-interest and awakening integrity. This moving, intimate look at America's struggle for civil rights, as seen through the narrow lens of one growing girl, will spark interesting discussion." --Booklist
 
"This debut offers a vivid glimpse of the 1960s South through the eyes of a spirited girl who takes a stand." --Kirkus Reviews
 
"Scattergood's effective snapshot of the fight against segregation, one town at a time, makes personal the tumultuous atmosphere of the times." --Publishers Weekly
 
"Glory is an appealing, authentic character whose unflinching convictions, missteps, and reflections will captivate readers." --School Library Journal
or
Not Currently Available for Direct Purchase