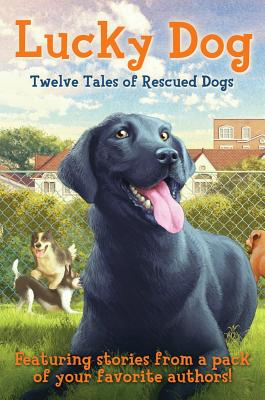 Lucky Dog
Twelve Tales of Rescued Dogs
Hardcover

* Individual store prices may vary.
Description
A collection of short stories from favorite authors, all about dogs and the kids who love them. Proceeds will be donated to RedRover, an organization that helps animals in need!

This collection is full of heartwarming and hilarious stories about the Pawley Rescue Center, where rescued dogs find their way into hearts and homes. You'll meet Foxtrot, a feisty Pomeranian who can't bear the thought of leaving her best friend. And Beatrice, whose bark is definitely worse than her bite. And then there's Pumpkin, one of the 101 Chihuahuas who turn life at the center upside down. Whether drooling, dueling, or just fooling around, these captivating canines will show you why the dog is kid's best friend!

LUCKY DOG features sweet and silly stories about playful pups and the kids who love them by some of your favorite authors: Randi Barrow, Marlane Kennedy, Elizabeth Cody Kimmel, Kirby Larson, C. Alexander London, Leslie Margolis, Jane B. Mason and Sarah Hines Stephens, Ellen Miles, Michael Northrop, Teddy Slater, Tui T. Sutherland, and Allan Woodrow.
Scholastic Press, 9780545554510, 192pp.
Publication Date: January 28, 2014
About the Author
Randi Barrow is an attorney and amateur historian, who has also published adult nonfiction. When dogs entered her life a dozen years ago, the effect was profound. SAVING ZASHA, her first children's book, was inspired and informed by her canine friends. Now a full-time writer, she lives in Los Angeles with her husband, musician/composer Arthur Barrow, and their Chihuahua mix companion, Manuel.

Marlane Kennedy is the author of ME AND THE PUMPKIN QUEEN and THE DOG DAYS OF CHARLOTTE HAYES. She has lived through one tiny earthquake, the blizzard of 1978, and a tornado that swept through Wooster, Ohio, where she lives with her husband and daughter. Though she is having a blast writing about disasters, she is hoping not to add any more to this list! You can find her online at www.marlanekennedy.com.

Elizabeth Cody Kimmel lives with her family in New York's Hudson Valley. Elizabeth is the author of many books for children, including The Invention of Moxie Roosevelt, Balto and the Great Race, and the Suddenly Supernatural Series. She spends her spare time reading, hiking, singing in the choir, rock climbing, and trying to communicate telepathically with her beagle.

Kirby Larson is the acclaimed author of the 2007 Newbery Honor book HATTIE BIG SKY, THE FRIENDSHIP DOLL, and DEAR AMERICA: THE FENCES BETWEEN US. She has also written a number of picture books, including the award-winning TWO BOBBIES: A TRUE STORY OF HURRICANE KATRINA, FRIENDSHIP, AND SURVIVAL and NUBS: THE TRUE STORY OF A MUTT, A MARINE, & A MIRACLE. She lives in Washington with her husband.

C. Alexander London is an author of books for children and adults. In addition to the Dog Tags series, he writes the Accidental Adventures novels for young readers and books like ONE DAY THE SOLDIERS CAME: VOICES OF CHILDREN IN WAR for older readers. When he is not writing books, he can usually be found walking around New York City talking to his dog.

Leslie Margolis has written a bunch of books about kids and dogs, most famously BOYS ARE DOGS in the Annabelle Unleashed series, and GIRL'S BEST FRIEND in the Maggie Brooklyn Mystery series. She lives in the Hollywood Hills where she and her family enjoy hiking with Aunt Blanche, their rescue mutt.

Jane B. Mason lives in Oakland, California, where she spends her time keeping up with her children and writing books with Sarah Hines Stephens, including A Dog and His Girl Mysteries and the Candy Apple titles The Sister Switch and Snowfall Surprise.

Ellen Miles loves dogs, which is why she has a great time writing Puppy Place books. And guess what? She loves cats, too! That's why she came up with a brand-new series called Kitty Corner. Ellen lives in Vermont and loves to be outdoors every day, walking, biking, skiing, or swimming, depending on the season. She also loves to read, cook, explore her beautiful state, play with dogs, and hang out with friends and family. Visit her web site at www.EllenMiles.net.

Michael Northrop has written short fiction for WEIRD TALES, the NOTRE DAME REVIEW, and MCSWEENEY'S. His debut novel, GENTLEMEN, earned him a PW Flying Start, and his YA thriller, TRAPPED, was published in 2011 to great acclaim. An editor at SPORTS ILLUSTRATED KIDS for many years, he now writes full-time from his home in New York City. You can visit him online at www.michaelnorthrop.net.

Teddy Slater has written over 100 books for children, including ABC SING-ALONG and THE LUCKIEST ST. PATRICK'S DAY EVER! She lives in upstate New York with her husband.

Tui T. Sutherland is the author of several books for young readers, including the Menagerie trilogy, the Pet Trouble series, and three books in the bestselling Seekers series (as part of the Erin Hunter team). In 2009, she was a two-day champion on Jeopardy! She lives in Massachusetts with her wonderful husband, two adorable sons, and one very patient dog. To learn more about Tui's books, visit her online at www.tuibooks.com.

Allan Woodrow grew up in Michigan, always wanting to be an author. But his teachers told him to write about what he knew, and he discovered he didn't know very much. It turns out he didn't know very much for quite a long time. Allan isn't sure he really knows anything more now than he did in third grade, but he got tired of waiting and decided to start writing anyway. Allan currently lives near Chicago with his family and two vicious goldfish.

Sarah Hines Stephens lives in Oakland, California, where she spends her time keeping up with her children and writing books with Jane B. Mason, including A Dog and His Girl Mysteries and the Candy Apple titles The Sister Switch and Snowfall Surprise.
or
Not Currently Available for Direct Purchase