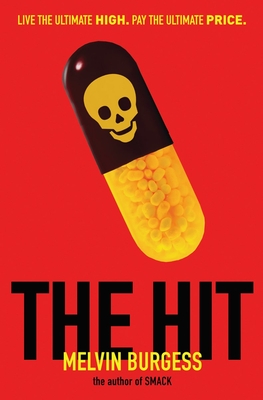 The Hit
Hardcover

* Individual store prices may vary.
Description
Live the ultimate high. Pay the ultimate price. The shocking return to YA by the author of SMACK.

A new drug is on the street. Everyone's buzzing about it. Take the hit. Live the most intense week of your life. Then die. It's the ultimate high at the ultimate price. Adam thinks it over. He's poor, and doesn't see that changing. Lizzie, his girlfriend, can't make up her mind about sleeping with him, so he can't get laid. His brother Jess is missing. And Manchester is in chaos, controlled by drug dealers and besieged by a group of homegrown terrorists who call themselves the Zealots. Wouldn't one amazing week be better than this endless, penniless misery? After Adam downs one of the Death pills, he's about to find out.
Praise For The Hit…
"One of the few entirely essential authors in the world of young-adult fiction...THE HIT has many of the elements that make Burgess such a compelling writer. The sex, drugs, and rock n' roll are all there, and that distinctive Burgess prose -- swaggering, intense, and exciting -- thrums through it all." -- Anthony McGowan

"A writer of the highest quality with exceptional powers of insight." -- THE LONDON TIMES

Booklist Starred Review
Burgess' dystopian novel posits a near-future world in which the gap between rich and poor has grown to an unbridgeable chasm. In their despair, many have-nots are taking a new drug called Death that offers seven days of euphoric bliss followed by the oblivion of death. Adam, 17, is one of these. His hopes for an education are dashed, his brother is missing and presumed dead, and he's been dumped by his girlfriend, Lizzie. Seeing nothing but a bleak future, he impulsively takes the pill, but as his own options are precluded, enormous changes are underway. Led by a group called the Zealots, society is teetering on the brink of revolution. Meanwhile, a drug lord and his psychopathic son enter Adam and Lizzie's lives to potentially catastrophic effect. Will Lizzie survive? Will Adam die or is it possible that there might be an antidote to Death after all? Burgess, a master of YA literature, has written a novel of white-knuckle suspense that has considerable violence and ambitious philosophical underpinnings. How does one deal with socioeconomic inequity? Is revolution a viable strategy? Is death? If this ambitious novel has flaws, it may be a lack of attention to these very questions. In addition, the villains—though terrifying—are over the top. But all that said, the novel is viscerally exciting and emotionally engaging. Best of all, it is sure to excite both thoughtful analysis and heated discussion among its readers. A clear winner from Burgess.

Publishers Weekly Starred Review
Burgess (Smack) returns with a boundary-pushing thriller that all-too-believably builds on contemporary threads including income inequality, the Occupy movement, and a YOLO mentality. On the night he attends rocker Jimmy Earle's final concert, Adam knows that his life has changed. Earle's on-stage demise—supposedly from Death, an expensive drug that provides the consummate one-week high followed by death—has awakened a riotous fervor in depressed Manchester, England, which may mark the beginning of a larger revolution. The high of Adam's night out with his girlfriend, Lizzie, comes crashing down when Adam's older brother, Jess, is reported dead. Suddenly, taking Death means a way out. Burgess's prose is straightforward and fast-paced, and his third-person narration hopscotches from character to character while giving readers clear insight into the motives that drive them. His plot swerves are unexpected but well-maneuvered, and his characters' flaws and self-absorptions make them complex and real. Amid violent action, existential anguish, and the heightened appreciation for life that death can bring, Burgess has created a premise that readers will find hard to forget.
Chicken House, 9780545556996, 304pp.
Publication Date: February 25, 2014
About the Author
MELVIN BURGESS is the recipient of both the Carnegie Medal and the Guardian Children's Fiction Award for his controversial bestseller JUNK (SMACK in the US). He is the author of more than twenty books for young readers, including DOING IT, BLOODTIDE, SARA'S FACE, and KILL ALL ENEMIES. Visit his website http://melvinburgess.net and follow him on Twitter @MelvinBurgess.