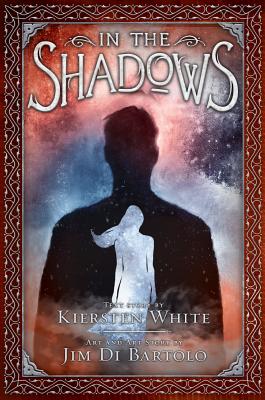 In the Shadows (Hardcover)
Scholastic Press, 9780545561440, 384pp.
Publication Date: April 29, 2014
* Individual store prices may vary.
Description
 From the remarkable imagination of acclaimed artist Jim Di Bartolo and the exquisite pen of bestselling author Kiersten White comes a spellbinding story of love, mystery, and dark conspiracy, told in an alternating narrative of words and pictures.


Cora and Minnie are sisters living in a small, stifling town where strange and mysterious things occur. Their mother runs the local boarding house. Their father is gone. The woman up the hill may or may not be a witch.

Thomas and Charles are brothers who've been exiled to the boarding house so Thomas can tame his ways and Charles can fight an illness that is killing him with increasing speed. Their family history is one of sorrow and guilt. They think they can escape from it . . . but they can't.

Arthur is also new to the boarding house. His fate is tied to that of Cora, Minnie, Thomas, and Charles. He knows what darkness circles them, but can't say why, and doesn't even know if they can be saved.  

Sinister forces are working in the shadows, manipulating fates and crafting conspiracies. The closer Cora, Minnie, Arthur, Thomas, and Charles get to the truth, the closer they get to harm. But the threat is much bigger than they can see. It is strangling the world.  

Until one of the boys decides he wants to save it.  

Told in an astonishing mix of art and words, IN THE SHADOWS collides past against future, love against evil, and hope against fear.  The result is both a mystery and a masterpiece.
About the Author
Kiersten White is the NEW YORK TIMES bestselling author of numerous novels for young adults. She lives with her family near the ocean in San Diego. While she spends most of her time in the sun, she still courts the occasional shadow. Visit her online at www.kierstenwhite.com.
Jim Di Bartolo is a mixed media illustrator, painter, and visual storyteller. In his freelance career he has illustrated novels, comic books, and role-playing games. He and his wife, the author Laini Taylor, have collaborated on several books, and their most recent joint effort, LIPS TOUCH: THREE TIMES, was a National Book Award finalist. He lives in Portland, Oregon, with his wife and their daughter, and can be found online at 
www.jimdibartolo.com
. Chances are, he probably could use more sleep.