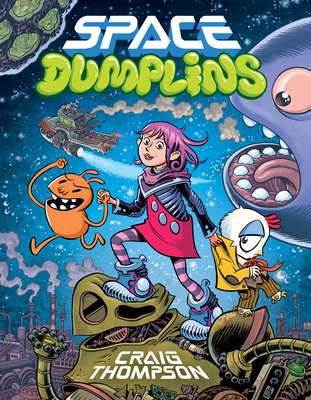 Space Dumplins
Paperback

* Individual store prices may vary.
Other Editions of This Title:
Hardcover (8/25/2015)
Description
Highly acclaimed graphic novelist Craig Thompson's debut book for young readers about a plucky heroine on a mission to save her dad.
For Violet Marlocke, family is the most important thing in the whole galaxy. So when her father goes missing while on a hazardous job, she can't just sit around and do nothing. To get him back, Violet throws caution to the stars and sets out with a group of misfit friends on a quest to find him. But space is vast and dangerous, and she soon discovers that her dad is in big, BIG trouble. With her father's life on the line, nothing is going to stop Violet from trying to rescue him and keep her family together.

Visionary graphic novel creator Craig Thompson brings all of his wit, warmth, and humor to create a brilliantly drawn story for all ages. Set in a distant yet familiar future, Space Dumplins weaves themes of family, friendship, and loyalty into a grand space adventure filled with quirky aliens, awesome spaceships, and sharp commentary on our environmentally challenged world.
Praise For Space Dumplins…
"I love Space Dumplins!"--Jeff Smith, creator of BONE
"Craig Thompson has created a new genre: the Adorable Epic."--Joss Whedon, director and writer, The Avengers; creator of Buffy the Vampire Slayer

Praise for Space Dumplins:

* "With thrilling adventure, a stalwart, good-hearted hero, some well-timed laughs, and a meaningful message at its heart, this is will surely be a star."--Booklist, starred review

* "It's a wild and funny escapade, undergirded by a tender portrait of a family just trying to get by."--Publishers Weekly, starred review
Praise for Habibi:
* "It is unfair to expect two masterpieces in a row from anyone, but here Thompson sits securely in that rarefied air."--Booklist, starred review

* "A lushly epic love story that's both inspiring and heartbreaking... A dense, swirling dervish of a tale...this will be the most talked about graphic novel of the fall."--Publishers Weekly, starred review

* "The exquisite beauty and deep magic of this Arabian Nights-style love story cannot be overstated...Habibi is certain to join the ranks of graphic novels that expand our understanding of not only the genre but also the world it describes."--School Library Journal, starred review
Praise for Blankets:
* "His visual mastery shows in fluid line work, assured compositions, and powerful use of solid black areas and negative space."--Booklist, starred review
"His exceptional b&w drawings balance representational precision with a bold and wonderfully expressive line for pages of ingenious, inventively composed and poignant imagery."--Publishers Weekly
"This second, much longer work shares the acuity for character development and dynamic sensitivity that makes the author so compulsively readable."--School Library Journal
Graphix, 9780545565431, 320pp.
Publication Date: August 25, 2015
About the Author
Craig Thompson is a critically-acclaimed graphic novelist best known for his books Good-Bye, Chunky Rice, Blankets, Carnet de Voyage, and Habibi. Thompson has received three Eisner Awards, four Harvey Awards, and two Ignatz Awards. In 2007, his cover design for the Menomena album Friend and Foe received a Grammy nomination for Best Recording Package. Craig lives in Los Angeles, Califorina.