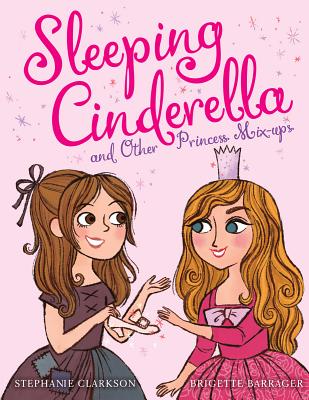 Sleeping Cinderella and Other Princess Mix-ups
Hardcover

* Individual store prices may vary.
Description
Princesses Cinderella, Sleeping Beauty, Snow White, and Rapunzel swap fairy tales with one another in this hilariously clever new classic!

Once upon a time, four fairy tale misses,
tired of dwarves, witches, princes, and kisses,
so bored and fed up, or just ready to flop,
upped and left home for a fairy tale swap.

What happens when Cinderella, Sleeping Beauty, Snow White, and Rapunzel get so fed up with their fairy tales that they decide to switch places with one another? Hilarity ensues in this clever, rhyming story about whether the grass really is greener at someone else's castle.

Author Stephanie Clarkson crafts an incredibly witty manuscript, with rhymes that shine and predicaments that will make little girls everywhere laugh out loud, as illustrator Brigette Barrager brings these beautiful princesses to life with her rich, warm colors and charming retro-girl style!
Orchard Books, 9780545565646, 40pp.
Publication Date: January 27, 2015
About the Author
Writer Stephanie Clarkson lives in leafy Surrey, England, with her husband, two young daughters, and a very hairy hound named Bob. Her ambition in life is to invent and patent an anti-mud device for dogs like Bob, who like hanging out in dirty puddles.Steph began her writing career as a journalist at Britain's Daily Mail newspaper, and she continues to write for the British press while dreaming up stories for children about strong-minded princesses and tech-obsessed owls.


Brigette Barrager is an artist, designer, illustrator, and writer of children's books. She attended the California Institute of the Arts, where she earned a degree in character animation. Brigette spent some time at Pixar and Walt Disney Animation Studios before taking the plunge into freelance, where she's lived happily ever after. She resides in Los Angeles with her handsome husband, cute doggy, and a terrible cat.