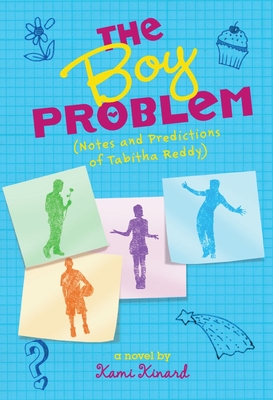 The Boy Problem (Hardcover)
Notes and Predictions of Tabitha Reddy
Scholastic Press, 9780545575867, 272pp.
Publication Date: April 29, 2014
* Individual store prices may vary.
Description
This companion novel to THE BOY PROJECT is the perfect "next step" for fans of DORK DIARIES.

Tabitha "Tabbi" Reddy believes in signs. Like fortune cookies. Magic 8-Balls. Shooting stars. And this year, she hopes, looking for the right signs will lead her to the right boy! Inspired by her BFF, Kara (star of THE BOY PROJECT), Tabbi starts her own "project" in the hopes of finding a cute crush. With the help of a math lesson on probability, Tabbi tries to predict who the right boy for her might be! Where is she most likely to meet him? What is he most likely to look like? Full of fun illustrations, hilarious equations, and lessons in cupcake-baking, life, love, and friendship, this book has a 100% probability of awesomeness. A perfect "next step" for fans of DORK DIARIES.

About the Author
Kami Kinard enjoys writing about the boyfriend quest more than she enjoyed experiencing it. A teaching artist on the SC Arts Commission's Roster of Approved Artists, she writes from Beaufort, South Carolina, where she lives with her husband and two children. Please visit her online at: www.kamikinard.com.
Praise For The Boy Problem: Notes and Predictions of Tabitha Reddy…
Praise for THE BOY PROBLEM: NOTES AND PREDICTIONS OF TABITHA REDDY:
"For any spirited, entrepreneurial teen that's ever had a crush, this sweet read is sprinkled with lessons on life, love and business." -- KIRKUS REVIEWS
Praise for THE BOY PROJECT: NOTES AND OBSERVATIONS OF KARA MCALLISTER:
"This debut novel is a rollicking ride through middle-school affairs of the heart. With a premise that is original, a unique layout featuring Kara's note cards and charts, and timely references to Facebook and books like INKHEART this story feels like today. Kara's wicked sense of humor and her ability to navigate the waters of love and friendship will give readers in similar situations hope, especially as Kara slowly realizes that best friends trump crushes any day." -- BOOKLIST
"[F]or the girl bent on hooking a particular fish, Kara's advice might do the trick." -- THE BULLETIN OF THE CENTER FOR CHILDREN'S BOOKS
"Kara's boy-crazy experiment lends refreshing perspective on teen relationships, and the results point to self-enlightenment." -- KIRKUS REVIEWS
"[Kinard] hits all the right notes as Kara learns that first opinions are rarely accurate and that the scientific method does not always apply to human beings." -- PUBLISHERS WEEKLY
"[Kara's] convincing voice gives an authentic account of this awkward age." -- SCHOOL LIBRARY JOURNAL