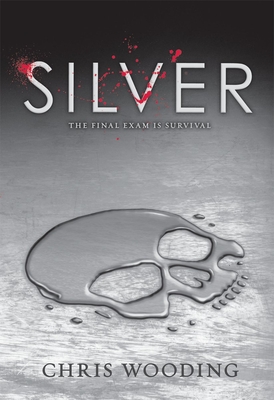 Silver (Hardcover)
Scholastic Press, 9780545603928, 320pp.
Publication Date: March 25, 2014
* Individual store prices may vary.
Description
The final exam is survival.

Paul is the new kid at Mortingham Boarding Academy, and he has a dark secret.
Caitlyn admires Paul from afar and resents that he only has eyes for Erika.
Erika thinks that she and Caitlyn are best friends, but she's wrong.
Adam is a bully with a major chip on his shoulder.
Mark is outgrowing his old friends but doesn't know how to make new ones.

In a few short hours, none of this will matter. Without warning, a horrifying infection will spread across the school grounds, and a group of students with little in common will find themselves barricaded in a classroom, fighting for their lives. Some will live. Some will die. And then it will get even worse.

Fast-paced and frightening, Silver is a tale set on the fringes of science and horror - a story about the struggle to survive in the face of impossible odds.
About the Author
Chris Wooding began writing at the age of 16, and his first novel Crashing was published when he was 19. Since that time, he's written dozens of novels in several genres, notably the award-winning The Haunting of Alaizabel Cray; Poison; Storm Thief; the Malice series; and the graphic novel, Pandemonium.


Praise For Silver…
Praise for THE HAUNTING OF ALAIZABEL CRAY:
"An imaginative tour de force."–PUBLISHERS WEEKLY, starred review
"Eerie and exhilarating."–SCHOOL LIBRARY JOURNAL, starred review
"Readers will get finger cramps from rapidly turning the pages of Wooding's gripping tale."–KIRKUS REVIEWS, starred review
Praise for POISON:
"A compelling read."–KIRKUS REVIEWS, starred review
"Each scene of danger sings with tension. Lovers of adventure, horror, and suspense should keep an eye on this talented author."–HORN BOOK MAGAZINE

Praise for STORM THIEF:

"This stunning work of speculative fiction will appeal to Wooding's fans and earn him new ones."–KIRKUS REVIEWS, starred review
Booklist Starred Review
A couple of boys on a biology field trip uncover a silver creature with chitin markings eerily like a computer chip. But it is only the first of many horrible creatures whose scratches turn humans into silver insects—or the Infected. It's a biological weapon experiment gone awry, a horrifying precursor to an evil world bent on destroying itself. The challenge for a lucky (?) few Mortingham Boarding Academy students: how to survive and perhaps, more importantly, what happens if they do? Wooding has morphed a traditional English boarding school story—bullies, evil headmaster, well-intentioned teacher, and boy/girl drama—into a horror/survival story that would make William Golding and Gary Paulsen envious. The ugly, morphing Infected are graphic, both awe-inspiring and terrifying, as they devour their comrades to become larger, more intelligent, and more vicious. The tension is palpable as a small group of teens gradually out-thinks its few remaining adult leaders, thus leading the scant remaining survivors in a quest to escape. Is "sometimes being nice being stupid" or can goodness actually prevail? Carve out enough time to read Silver in a single sitting. You'll need it.