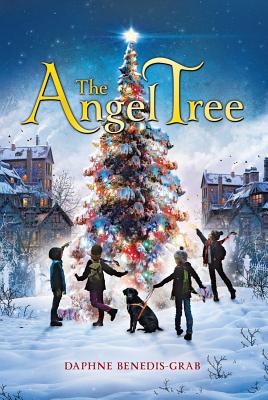 The Angel Tree (Hardcover)
Scholastic Press, 9780545613781, 256pp.
Publication Date: September 30, 2014
* Individual store prices may vary.
Description
A heartwarming Christmas mystery and friendship story!

Every Christmas in the small town of Pine River, a tree appears in the town square--the Angel Tree. Some people tie wishes to the tree, while others make those wishes come true. Nobody's ever known where the tree comes from, but the mystery has always been part of the tradition's charm.

This year, however, four kids who have been helped--Lucy, Joe, Max, and Cami--are determined to solve the mystery and find out the true identity of the town's guardian angel, so that Pine River can finally thank the person who brought the Angel Tree to their town.

This is a heartwarming Christmas mystery, full of friendship, discovery, and loads of holiday cheer!
About the Author
Daphne Benedis-Grab grew up in a small town in upstate New York where Christmas was always her favorite holiday. She is the author of ALIVE AND WELL IN PRAGUE, NEW YORK, a young adult novel. She has worked a variety of jobs including building houses for Habitat for Humanity in Georgia, organizing an after-school tutoring program in San Francisco, and teaching ESL in China. She now lives in New York City with her husband, two kids, and a cat, and still looks forward to celebrating Christmas every year.
Praise For The Angel Tree…
"Full of the type of warmth and good cheer found in favorite holiday movies . . . Benedis-Grab's lively tale spotlights the time-honored tradition–and can-do citizens–that make a small town great, even in the face of financial struggle. . . . As the kids puzzle through clues, they discover things that bring them closer to their families, neighbors, and each other–all in time for a satisfying, celebratory reveal." --Publishers Weekly

"The Rockwellian-with-issues setting enhances the cozy small-town feel . . . this is a pleasant story in which kids learn life lessons from one another. Part mystery and part holiday high jinks, this will be a little gift to readers who enjoyed Dean Pitchford's Nickel Bay Nick (2013)." –Booklist

"This quick tale of generosity is as warm and simple as a Christmas postcard." –Kirkus Reviews

"A satisfying read on many levels–misunderstandings are resolved, lessons are learned,
friendships evolve, and positive behavior is rewarded. Be sure to have a box of tissues handy." –School Library Journal
or
Not Currently Available for Direct Purchase