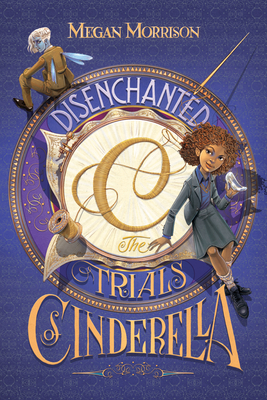 Disenchanted
The Trials of Cinderella (Tyme #2)
Hardcover

* Individual store prices may vary.
Other Editions of This Title:
MP3 CD (3/14/2017)
Description
Ella Coach has one wish: revolution. Her mother died working in a sweatshop, and Ella wants every laborer in the Blue Kingdom to receive fairer treatment. But to make that happen, she'll need some high-level support...

Prince Dash Charming has one wish: evolution. The Charming Curse forced generations of Charming men to lie, cheat, and break hearts -- but with the witch Envearia's death, the curse has ended. Now Dash wants to be a better person, but he doesn't know where to start...

Serge can grant any wish -- and has: As an executive fairy godfather, he's catered to the wildest whims of spoiled teenagers from the richest, most entitled families in Blue. But now a new name has come up on his list, someone nobody's ever heard of... Ella Coach.

This is a story about three people who want something better and who together find the faith to change their worlds. It's "Cinderella," brilliantly reimagined, and a delightful expansion of the wonderful world of Tyme.
Praise For Disenchanted: The Trials of Cinderella (Tyme #2)…
Praise for Disenchanted: The Trials of Cinderella:

* "Endearing and believable characters… contemporary issues… liberal infusions of magic and humor… The book stands alone while also complementing Grounded (2015), the first in the series. Great, smart fun." -- Kirkus Reviews, starred review

"Engrossing and delightful reading -- a can't-miss choice." -- Booklist

"Readers who like a fresh approach to traditional fairy tales will appreciate how the author blends themes of magic and modern-day economic justice." -- School Library Journal

"Morrison makes an abstract concept deeply personal, blending the characters' wishes for more agency in their own lives with the larger struggle of their society's oppressed." -- Bulletin of the Center for Children's Books


Praise for Grounded: The Adventures of Rapunzel:

* "The novel does not miss a beat in creating Tyme, a beautifully described world with a seamless fusion of magical and nonmagical beings, scenery and objects... The characters are refreshingly three-dimensional, helping readers empathize with Rapunzel as she wrestles with universal feelings of love and betrayal... Readers will be eager for more episodes of the intrepid team of Rapunzel and Jack." -- Kirkus Reviews, starred review

* "Morrison has a deft hand with both world-building and pacing, carefully constructing the geography and various politics of the fairy-tale world of Tyme in between chase scenes, bridge collapses, narrow escapes, and bargains with all sorts of devious beings. Rapunzel and Jack have an easy, witty banter going as they quest, adding a much appreciated dollop of humor to their tale." -- Bulletin of the Center for Children's Books, starred review

"Those expecting a Disneyesque Rapunzel in Morrison's debut, first in the Tyme series, will be pleasantly surprised by the novel's emotional depth and inventiveness... A full-bodied world worth revisiting." -- Publishers Weekly

"Think you know Rapunzel's story? Think again, because the tower was only the beginning... With a lovable heroine who finds her courage, a somewhat reluctant guide, and an adventure worth following, Grounded is one of my favorite reads this year!" -- Jennifer Nielsen, New York Times bestselling author of The False Prince

"What makes Grounded so much fun is its ability to combine biting satire with the innocence of fairy tales. It's a sprightly, imaginative romp that keeps unraveling tales as quickly as it spins them, with a spunky heroine and charismatic thief guiding our way." -- Soman Chainani, New York Times bestselling author of The School for Good and Evil

"The last time I read a book this funny, this smart, and this charming, it was written by J.K. Rowling. Grounded reveals a wonderful new world begging to be explored, full of the kind of magical detail that turns casual readers into lifelong fans. The Tyme fandom begins here!" -- Melissa Anelli, author of the New York Times bestseller Harry, A History and webmistress of the Leaky Cauldron
Arthur A. Levine Books, 9780545642712, 416pp.
Publication Date: October 11, 2016
About the Author
Megan Morrison is a middle-school drama teacher and a writer. She cofounded the Harry Potter fanfiction site the Sugar Quill, and has been developing the world of Tyme since 2003. She lives near Seattle, Washington, with her family. Please visit her website at www.meganmorrison.net and her blog at makingtyme.blogspot.com, and follow her on Twitter at @megtyme.