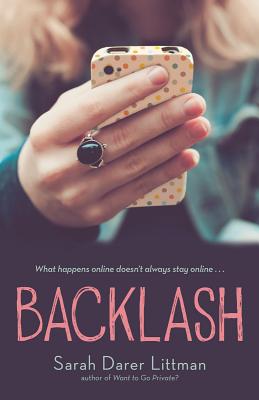 Backlash (Hardcover)
Scholastic Press, 9780545651264, 336pp.
Publication Date: April 28, 2015
Other Editions of This Title:
Paperback (7/26/2016)
* Individual store prices may vary.
Description
In critically acclaimed author Sarah Darer Littman's gripping new novel what happens online doesn't always stay online . . .Lara just got told off on Facebook.She thought that Christian liked her, that he was finally going to ask her to his school's homecoming dance. It's been a long time since Lara's felt this bad, this depressed. She's worked really hard since starting high school to be happy and make new friends.Bree used to be BBFs with overweight, depressed Lara in middle school, but constantly listening to Lara's problems got to be too much. Bree's secretly glad that Christian's pointed out Lara's flaws to the world. Lara's not nearly as great as everyone thinks.After weeks of talking online, Lara thought she knew Christian, so what's with this sudden change? And where does he get off saying horrible things on her wall? Even worse - are they true?But no one realized just how far Christian's harsh comments would push Lara. Not even Bree.As online life collides with real life, the truth starts to come together and the backlash is even more devastating than than anyone could have imagined.
About the Author
Sarah Darer Littman is the critically acclaimed author of In Case You Missed It; Backlash; Want to Go Private?; Life, After; Purge; and Confessions of a Closet Catholic, winner of the Sydney Taylor Book Award. She is also an award-winning news columnist and teaches writing as an adjunct professor in the MFA program at Western Connecticut State University and with the Yale Writers' Conference. Sarah lives in Connecticut with her family, in a house that never seems to have enough bookshelves. You can visit her online at www.sarahdarerlittman.com.
Praise For Backlash…
Praise for WANT TO GO PRIVATE?
"A bold investigation of a potentially lethal, if common, mixture for teen girls: emotional immaturity, technology, and emerging sexuality." --LOS ANGELES TIMES
"Littman pens a harrowing cautionary tale about the dangers that lurk online." --PUBLISHERS WEEKLY
"This book is a compelling, if not disturbing, read." --SCHOOL LIBRARY JOURNAL