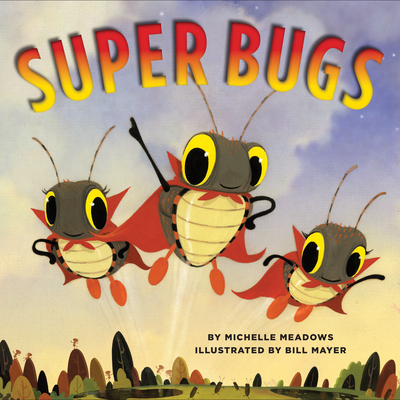 Super Bugs (Hardcover)
Orchard Books, 9780545687560, 40pp.
Publication Date: June 28, 2016
* Individual store prices may vary.
Description
The Super Bugs help insects when they are in danger!

"Antennae up, eyes down.
Buzzing all around the town.
Super Bugs, Super Bugs, mighty, mighty
Super Bugs!"

These heroic insects are ready to fly in and lend a helping hand or wing! The Super Bugs spend all day doing good, and when the day ends...

"To the hideout -- cozy nest. Even heroes need to rest."

Young insect enthusiasts will enjoy the fun facts for all nineteen insects in Super Bugs: ants, beetles, bumblebees, butterflies, caterpillars, cicadas, cockroaches, crickets, daddy longlegs, dragonflies, fireflies, fleas, grasshoppers, houseflies, mosquitoes, moths, spiders, stinkbugs, and termites.
About the Author
Michelle Meadows is the author of Hibernation Station and Pilot Pups. She lives in Delaware with her husband and son. Visit her online at michellemeadows.com.

Bill Mayer is the illustrator of A Walk in the Rain with a Brain, Hide and Sheep, and The Monster Who Did My Math. He lives with his wife in Decatur, Georgia. Visit him online at thebillmayer.com.
Praise For Super Bugs…
Praise for Hibernation Station by Michelle Meadows and illustrated by Kurt Cyrus:
"Written in rhymed couplets, the text tells the story in a satisfying way and sets a good pace for young children." -- Booklist

Praise for Itsy Bitsy Baby Mouse by Michelle Meadows and illustrated by Matthew Cordell:
"The simple, rhyming text makes for a bouncy read-aloud." -- Booklist

Praise for Hide and Sheep by Andrea Beaty and illustrated by Bill Mayer:
"Mayer populates his spreads with playful tableaux, enticing readers to explore each escapade and find (and count!) sheep. Done in pen and watercolor with an offset pattern to layer in color and texture, his simple, cartoony drawing style... is organic, spontaneous and skillfully controlled." -- Kirkus Reviews

"Mayer's illustrations are chockfull of action, adventure, and droll, rambunctious sheep." -- Publishers Weekly