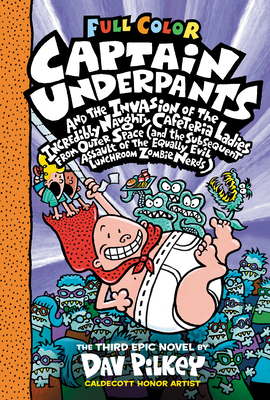 Captain Underpants and the Invasion of the Incredibly Naughty Cafeteria Ladies From Outer Space (Hardcover)
Color Edition (Captain Underpants #3): (And the Subsequent Assault of the Equally Evil Lunchroom Zombie Nerds)
Scholastic Inc., 9780545694704, 160pp.
Publication Date: December 30, 2014
* Individual store prices may vary.
Description
George and Harold have played a trick or two on nearly everyone at Jerome Horwitz Elementary. When their latest prank causes the school's cranky cafeteria ladies to quit, Mr. Krupp hires a trio of unusual replacements -- who happen to look an awful lot like aliens! Will that curtain-caped crusader, Captain Underpants, save the day once more? Or will those outer-space cafeteria ladies have him for lunch?
About the Author
DAV PILKEY is the creator of many acclaimed children's books, including Dogzilla, Kat Kong, god bless the gargoyles, and the bestselling Captain Underpants series. His book The Paperboy received a Caldecott Honor. He lives in the Pacific Northwest. www.pilkey.com
DAV PILKEY is the creator of many acclaimed children's books, including Dogzilla, Kat Kong, god bless the gargoyles, and the bestselling Captain Underpants series. His book The Paperboy received a Caldecott Honor. He lives in the Pacific Northwest. www.pilkey.com
Praise For Captain Underpants and the Invasion of the Incredibly Naughty Cafeteria Ladies From Outer Space: Color Edition (Captain Underpants #3): (And the Subsequent Assault of the Equally Evil Lunchroom Zombie Nerds)…
The critics are CRAZY about UNDERPANTS!

"Irresistible." -- Entertainment Weekly

"Call Pilkey... the savior of the 'reluctant reader.'" -- USA Today

"So appealing that youngsters won't notice that their vocabulary is stretching." --
School Library Journal

"Pilkey's sharp humor shines, and is as much fun for parents as their young readers."
-- Parents' Choice Foundation

"Combines empowerment and empathy with age-appropriate humor and action." --
Booklist

"Celebrates the triumph of the good-hearted." -- The Educational Book and Media
Association