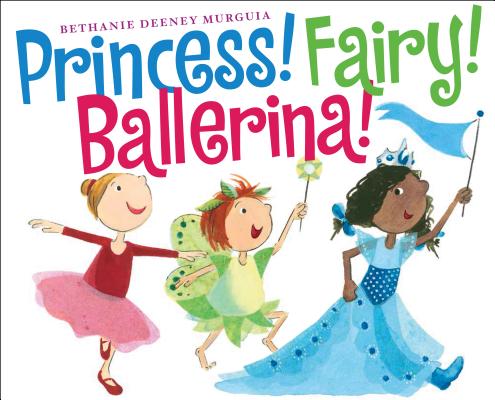 Princess! Fairy! Ballerina! (Hardcover)
Arthur A. Levine Books, 9780545732406, 40pp.
Publication Date: May 31, 2016
* Individual store prices may vary.
Description
When three friends gather for a playdate, they have to decide: Will they play princess, fairy, or ballerina? It's the perfect setup for a royal, magical, graceful, and very cute standoff, with a delightful (and slightly damp) ending. (We'll say only this: Keep your eye on the frog.)

Princess! Fairy! Ballerina! is the perfect book for all the princesses, fairies, and ballerinas in your life!
About the Author
Bethanie Deeney Murguia is the author and illustrator of Princess! Fairy! Ballerina! and the Zoe series, beginning with Zoe Gets Ready, among many other beautiful picture books. She lives with her family in Sausalito, California. Please visit her website at www.aquapup.com or find her on Twitter at @aquapup.
Praise For Princess! Fairy! Ballerina!…
Praise for Princess! Fairy! Ballerina!:

"Murguia uses a light touch to explore the frustrations that can result when compromises are nowhere to be found, telling the story through the girls' increasingly combative dialogue and airy pencil-and-watercolor artwork that draws out the magical possibilities in each of their pretend-play interests." -- Publishers Weekly

"Watercolor illustrations against a white background depict three expressive and energetic girls who are able to work out their differences, even if they need green amphibian assistance... Readers will enjoy the story of three girls who expand their play possibilities." -- Kirkus Reviews

"This picture book will quickly find its audience." – Booklist

"A surefire hit that should magically fly off the library shelves and emerge a royal success." -- School Library Journal


Praise for Zoe Gets Ready:

"The cartoon simplicity matches the light text and gentle humor, and sparkles on the cover accent the many outfits with great pizzazz. Add this one to the growing list of fun stories for young ladies with style." -- School Library Journal

"With layers of meaning, a spunky, fun-loving heroine, and clever use of the butterfly motif throughout, this one is a keeper." -- Booklist

"Hard to resist." -- Publishers Weekly


Praise for Zoe's Room (No Sisters Allowed):

"Zoe's abundant curiosity shines from the top of her crown to the bottom of her stretched tippy-toes." -- Kirkus Reviews

"Soft-hued pen-and-ink and watercolor illustrations... charmingly depict the age old dilemma of learning to compromise." -- School Library Journal


Praise for Zoe's Jungle:

"This endearing picture book is a lively addition to the Zoe series." -- Booklist

"Charming pen-and-ink and watercolor illustrations reveal to readers both the lush green jungle teeming with wild animals and bright flowers, as well as the impressive playground just ripe for imagining... Children will enjoy." -- School Library Journal