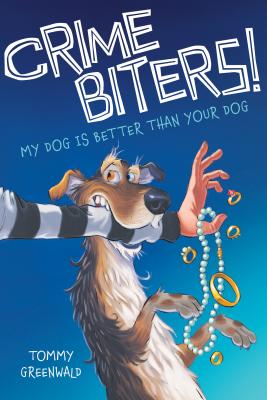 My Dog Is Better Than Your Dog (Crimebiters! #1) (Hardcover)
Scholastic Press, 9780545773324, 208pp.
Publication Date: September 29, 2015
* Individual store prices may vary.
Description
Jimmy Bishop loves doing 3 things:
1) Laughing at funny dog videos online,
2) watching his favorite show (Stop! Police!) on TV,
3) and reading his favorite vampire book (Fang Goodness) over and over.

His self-involved older sister and workaholic Mom think he needs to stop obsessing already! But when his Dad finally allows Jimmy to get a puppy before school starts, everything changes and Jimmy has something new to focus on: his amazing dog, Abby who seems to have some very unusual habits. She sleeps all day but is wired at night, and she runs from the garlic kelp biscuit made by Jimmy's strange new babysitter Mrs. Cragg. There's just something different about Abby. Could she possibly be...a vampire? Jimmy's best friend Irwin thinks Jimmy's being ridiculous, but then when Abby uncovers a real crime in progress and helps him become friends with an actual, human girl, even Irwin has to admit that perhaps Abby might have some super powers after all.
About the Author
Tommy Greenwald is the author of the Crimebiters series (about a crime-fighting, superhero, vampire dog named Abby) and the Charlie Joe Jackson series (about the most reluctant reader ever born.) Tommy lives in Connecticut with his wife, Cathy; his kids, Charlie, Joe and Jack; and his dogs, Coco and Abby. Abby is not necessarily a crimefighting vampire dog -- but she makes Tommy and his family very, very happy, which is definitely a kind of superpower when you think about it. Visit him at www.tommygreenwald.com

Adam Stower has illustrated many books for children including the Crimebiters series by Tommy Greenwald. He studied illustration at the Norwich School of Art and Design and at the University of Brighton. He lives with his daughter in Brighton, England. You can visit him at www.worldofadam.com.
Praise For My Dog Is Better Than Your Dog (Crimebiters! #1)…
Praise for Crimebiters! #1: My Dog is Better Than Your Dog:

"Lively dialogue and brief chapters punctuated by Jimmy's wry observations keep the story moving swiftly, while Stower's cartoons underline the comedic wisdom of some of the facts Jimmy collects ("Fact: Adults never eat the disgusting stuff they feed you.") and the madcap action that unfolds." -- Publishers Weekly

"Who wouldn't want to read a whole series of superhero-vampire-crime-fighter-dog books?" -- Kirkus Reviews

Praise for Charlie Joe Jackson's Guide to Not Reading:

*"Hilarious... This debut is filled with passages that beg to be shared... With its subversive humor and contemporary details drawn straight from kids' worlds, this clever title should attract a wide following." -- Booklist, starred review

"This is a fun, fast-moving look at middle-school life through the eyes of a kid who would rather clean his room than pick up a book. Reluctant readers will be pleased." -- School Library Journal

"Charlie Joe's insider knowledge of the inner machinations of middle-school cliques will make younger readers smile in anticipation, and his direct address to readers makes make him feel like an older buddy showing the way... Slackers everywhere have a new, likable hero in Charlie Joe Jackson." -- Kirkus Reviews

"Greenwald pulls off a clever bit of reverse psychology in his debut, first in a series starring a cheeky middle grader who goes to great lengths to avoid reading--and whose humor and rapid-fire delivery should draw in like-minded kids." -- Publishers Weekly