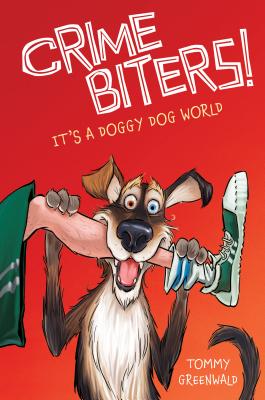 It's a Doggy Dog World (Crimebiters #2) (Hardcover)
Scholastic Press, 9780545783972, 240pp.
Publication Date: October 11, 2016
Other Editions of This Title:
Compact Disc (10/11/2016)
MP3 CD (10/1/2017)
Pre-Recorded Audio Player (11/1/2017)
MP3 CD (10/11/2016)
Compact Disc (10/11/2016)
* Individual store prices may vary.
Description
Jimmy is sure that his dog Abby is special. After all, it was Abby who (with the help of Jimmy & friends) helped nab the criminal Barnaby Bratford and shut down Barnaby's babysitting service, a front for robbing the nice folks of Quietville. Jimmy's parents, on the other hand, are starting to feel like Abby is one destructive little dog (she chewed up Mom's entire shoe collection!) and they insist on enrolling Abby in obedience training. The only problem is that the longer Abby's in class, the more normal (read: boring) she becomes. Jimmy's superhero crime-fighting vampire dog is slowly becoming just like every other dog. She doesn't even sneak out at night anymore! At the same time Jimmy's friends (the Crimebiters) are realizing that there's just not very much crime to fight in their tiny town. But when Jimmy joins the lacrosse team & mysterious things start happening on and off the field, the Crimebiters realize that Abby better get back to her crime-fighting ways... and fast!
About the Author
Tommy Greenwald is the author of the Crimebiters series (about a crime-fighting, superhero, vampire dog named Abby) and the Charlie Joe Jackson series (about the most reluctant reader ever born.) Tommy lives in Connecticut with his wife, Cathy; his kids, Charlie, Joe and Jack; and his dogs, Coco and Abby. Abby is not necessarily a crimefighting vampire dog -- but she makes Tommy and his family very, very happy, which is definitely a kind of superpower when you think about it. Visit him at www.tommygreenwald.com

Adam Stower has illustrated many books for children including the Crimebiters series by Tommy Greenwald. He studied illustration at the Norwich School of Art and Design and at the University of Brighton. He lives with his daughter in Brighton, England. You can visit him at www.worldofadam.com.
Praise For It's a Doggy Dog World (Crimebiters #2)…
Praise for Crimebiters! #1: My Dog is Better Than Your Dog:

"Lively dialogue and brief chapters punctuated by Jimmy's wry observations keep the story moving swiftly, while Stower's cartoons underline the comedic wisdom of some of the facts Jimmy collects ("Fact: Adults never eat the disgusting stuff they feed you.") and the madcap action that unfolds." -- Publishers Weekly

"Readers will be laughing out loud in this tale about Jimmy and his new dog. Jimmy believes that his newly adopted dog, Abby, is a crime-fighting vampire. Abby sleeps during the day, is sensitive to light, has unusually large fangs, and Jimmy thinks she might be flying out his window at night. When he and Abby encounter suspicious events regarding his creepy new babysitter, Jimmy finds himself in the midst of a criminal adventure. Character profiles of Jimmy's family and friends are introduced into the plot, with accompanying b&w illustrations. Random "Facts" appear throughout the text. These facts allow for additional insight into the plot and add whimsy and kid-friendly readability. Jimmy's adventures, the first in the Crimebiters! series, will appeal to all tween readers, but especially to boys." -- School Library Connection


Praise for Charlie Joe Jackson's Guide to Not Reading:

*"Hilarious... This debut is filled with passages that beg to be shared... With its subversive humor and contemporary details drawn straight from kids' worlds, this clever title should attract a wide following." -- Booklist, starred review

"This is a fun, fast-moving look at middle-school life through the eyes of a kid who would rather clean his room than pick up a book. Reluctant readers will be pleased." -- School Library Journal

"Charlie Joe's insider knowledge of the inner machinations of middle-school cliques will make younger readers smile in anticipation, and his direct address to readers makes make him feel like an older buddy showing the way... Slackers everywhere have a new, likable hero in Charlie Joe Jackson." -- Kirkus Reviews

"Greenwald pulls off a clever bit of reverse psychology in his debut, first in a series starring a cheeky middle grader who goes to great lengths to avoid reading--and whose humor and rapid-fire delivery should draw in like-minded kids." -- Publishers Weekly