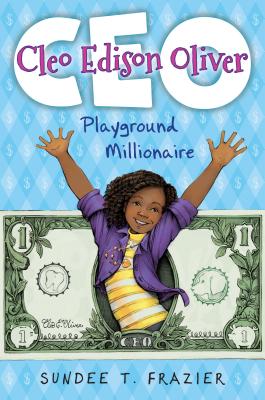 Cleo Edison Oliver, Playground Millionaire
Library Binding

* Individual store prices may vary.
Other Editions of This Title:
Paperback (1/26/2016)
Description
Cleopatra Edison Oliver has always been an entrepreneur, just like her inspiration, successful businesswoman Fortune A. Davies. So when Cleo's fifth-grade teacher assigns her class a "Passion Project," Cleo comes up with her best business idea yet: the finest "tooth-pulling" company in town. With the help of her best friend Caylee, a Nerf gun, her dad's tablet, and her patented Persuasion Power, Cleo's Quick and Painless Tooth Removal Service starts to take off.

But even the best made plans, by the best CEOs, go awry sometimes. A minor barfing incident during a tooth-pulling operation causes Cleo to lose customers. Caylee, initially enthusiastic about the business, grows distant as Cleo neglects their friendship in lieu of getting more customers. And when a mean classmate makes fun of Cleo for being adopted, everything comes crashing down. Will she be able to rescue her business, salvage her friendship with Caylee, and discover that her true home has been here all along?
Praise For Cleo Edison Oliver, Playground Millionaire…
Praise for Cleo Edison Oliver, Playground Millionaire:

"Future entrepreneur Cleo, unlike most fifth-graders, has her career path laid out; a new school assignment gives her the opportunity to jump-start her plans. Cleo's effervescent and upbeat, full of creative business ideas she tends to execute before securing the proper approvals from her loving adoptive parents. She counts on her best friend, Caylee Ortega, a born organizer, to make her ideas workable. Cleo's not all about the money. Her role model is an inspirational entrepreneur/celebrity with heart who advocates giving back to the community. Cleo secretly fantasizes she is her real birth mother, not the African-American-Filipino birth mother who gave Cleo her name, baby clothes, and stuffed toy, Beary, but has avoided contact. It's different for Cleo's little brothers. Their birth mother visits regularly and brings presents—even for Cleo. Canceling the dreaded fifth-grade family-tree project (creating and displaying their family trees is tough for kids with complex or difficult histories), her teacher assigns passion projects, encouraging students to explore their interests in depth. Cleo's passion is business; her project, removing her classmates' loose baby teeth with a Nerf gun. (Adults and even some kids will wonder how her otherwise responsible parents and teacher give even limited permission for this.) Frazier offers a rare, cleareyed view of adoption, understanding that even the best are founded on loss as well as love and that assimilating this bittersweet, difficult truth is a lifelong journey. A funny, compassionate tale." -- Kirkus Reviews

* "Energetic and enthusiastic, Cleo's passion for starting businesses sometimes gets her in trouble and strains her relationship with best friend, Caylee Ortega. Fifth-grader Cleopatra Edison Oliver, CEO, is a bubbling fountain of ideas. Her tooth-pulling business is a good one, but taking a Nerf gun to school for the purpose is not. Making a YouTube video of her little brother, her first customer, without telling her parents, was also a mistake. Caught up in her business plans, Cleo ignores Caylee's family problems. It takes a chance comment by her idol, TV businesswoman Fortune A. Davies, to prompt the budding entrepreneur to make things right. Frazier adds depth to Cleo's family story by making Cleo and her younger brothers African-American children adopted into a family in which the mother is white, allowing the author to explore some aspects of non-traditional families. Though this much-loved child is comfortable about sharing the facts of her adoption, a classmate's mean comment about her birth mother giving her away causes Cleo to lose control, surprising even herself with her blinding rage. The first-person narrative moves along quickly, and gray-scale illustrations head each chapter. Cleo brings a welcome burst of diversity to elementary fiction, and readers will be charmed by this utterly unforgettable character." -- Booklist, starred review

"Cleo Edison Oliver has a lot of fantastic ideas, and, thanks to the inspiration of business woman Fortune A. Davies, she is inspired to start her own businesses. From selling items from catalogs to setting up an avocado stand in her own front yard, Cleo has a lot of experience. So, for a class project, she offers up her wildest business yet: Cleo's Quick and Painless Tooth Removal Service! For a cut of the Tooth Fairy money, Cleo has her classmates covered, until an unfortunate barfing incident causes things to go haywire and Cleo learns that running a business isn't as easy as she thought. Cleo is a spunky, energetic, and highly ambitious girl. Always planning a new way to earn money and make her role model proud, Cleo manages to be an inspiration to young entrepreneurs. She and her brothers are adopted and African American, and the supporting cast is diverse as well. The plot is entertaining and relatable, with a happy ending that reminds readers that there are things more important than money. VERDICT A good purchase for libraries serving elementary-aged readers." -- School Library Journal


Praise for The Other Half of My Heart

* "Funny and deeply affecting... the richest portrait of multiracial identity and family since Virginia Hamilton's 1976 novel Arilla Sun Down. An outstanding achievement." -- Kirkus Reviews, starred review

* "[Frazier's] ability to round out each character, looking past easy explanations for attitude, is impressive... A novel with a great deal of heart indeed..." -- Booklist, starred review


Praise for Brendan Buckley's Universe and Everything in It

"Frazier delivers her messages without using an overly heavy hand. Brendan is a real kid with a passion for science and also a willingness to push his parents' rules; he's not just a placard for the author's central message." -- Booklist

"Brendan is an appealing character with a sense of honor... curiosity and intelligence. A good, accessible selection to inspire discussion of racism and prejudice." -- Kirkus Reviews

"This is an absorbing look at a 10-year-old boy who has never had to deal with race and prejudice, who collides into years of anger and hurt in his family and must create a new identity for himself... Frazier writes affectingly about what being biracial means in 21st-century America." -- School Library Journal
Arthur A. Levine Books, 9780545822350, 224pp.
Publication Date: January 26, 2016
About the Author
Sundee Frazier is the author of Cleo Edison Oliver, Playground Millionaire, which received a starred review from Booklist. She won the 2008 ALA Coretta Scott King / John Steptoe New Talent Award for her first novel, Brendan Buckley's Universe and Everything in It. Frazier graduated from the University of Southern California with a degree in broadcast journalism in 1991 and earned her MFA in Writing for Children from Vermont College in 2004. She currently lives near Seattle with her husband and two daughters. Find her online at sundeefrazier.com.
or
Not Currently Available for Direct Purchase