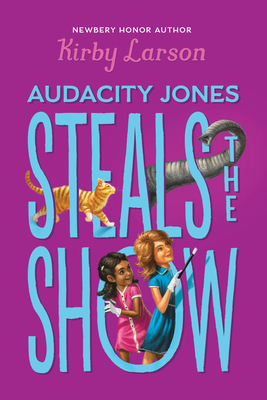 Audacity Jones Steals the Show (Audacity Jones #2) (Hardcover)
Scholastic Press, 9780545840651, 192pp.
Publication Date: January 31, 2017
Other Editions of This Title:
Paperback (3/27/2018)
Prebound (3/27/2018)
CD-Audio (1/31/2017)
* Individual store prices may vary.
Description
Audacity Jones and her best friend, Bimmy, are setting off from Miss Maisie's School for Wayward Girls on an extraordinary adventure! In the glittering city of New York, the girls meet Harry Houdini, the world's most famous magician, as he prepares a new spectacle: Houdini plans to make an elephant disappear from a crowded theater.

But Audacity and Bimmy discover a nefarious plot that puts Houdini's illusion in jeopardy. Who could be trying to sabotage the master magician? Audie will need all her smarts, the help of friends new and old, and even her best juggling skills to solve this mystery. Will she manage to save the show in time?

Newbery Honor author Kirby Larson brings readers a magical romp of a mystery that will delight and thrill to the very last page.
About the Author
Kirby Larson is the acclaimed author of the 2007 Newbery Honor book Hattie Big Sky; its sequel, Hattie Ever After; The Friendship Doll; Dear America: The Fences Between Us; Duke; Scott O'Dell Award for Historical Fiction winner Dash; Liberty; Audacity Jones to the Rescue; and its sequel Audacity Jones Steals the Show. She has also co-written the award-winning picture books Two Bobbies: A True Story of Hurricane Katrina, Friendship, and Survival and Nubs: The True Story of a Mutt, a Marine, and a Miracle. She lives in Washington with her husband and Winston the Wonder Dog.
Praise For Audacity Jones Steals the Show (Audacity Jones #2)…
Praise for Audacity Jones to the Rescue:
*"Larson's thriller deftly mixes humor, heart-pounding moments, and a strongly evoked historical setting -- it's truly a story with something for everyone." -- Publishers Weekly, starred review
*"[T]he story's themes of trust, friendship, and good manners will resonate with many. Audacity's charm and smarts make this historical adventure a winner." -- Booklist, starred review
"Larson infuses her romp with plenty of humor, making Audacity, her cat, and friends into lively, likable characters. With characteristic deftness, she weaves her historical material seamlessly into the story; Audacity is a modern girl.... Clever, funny, and sweet in equal measures." -- Kirkus Reviews
"Readers will cheer Audacity's ingenuity and bravery as they relish every moment of her adventures. Highly recommended." -- School Library Journal

Praise for Liberty:
* "Larson once again creates an engaging story that is rich in historical details. She purposefully captures both the fear and the hope in a world torn by war as well as the simple love of a boy for his dog. Practically perfect." -- Kirkus Reviews, starred review
"A slice-of-life tale for historical fiction fans and animal lovers alike." -- School Library Journal
"Larson brings the historical setting to life with vivid details and draws readers into the story with a heartfelt dog-and-child relationship." -- Hornbook

Praise for Dash:

Winner of the Scott O'Dell Award for Historical Fiction

A Kirkus Reviews Best Book of the Year

*"Emotionally satisfying and thought-provoking." -- Kirkus Reviews, starred review

*"[A] trenchant novel." -- Publishers Weekly, starred review

"Historical fiction at its best." -- School Library Journal

Praise for Duke:

*"Exceptionally well-crafted and emotionally authentic." -- Kirkus Reviews, starred review

*"[An] incisive tale of loyalty, patriotism, sacrifice, and bravery." -- Publishers Weekly, starred review

"A good example of how bravery comes in all shapes, sizes -- and breeds." -- Booklist

Praise for Hattie Big Sky:

A Newbery Honor Recipient

*"[An] engaging historical novel... [Larson] creates a richly textured novel full of memorable characters." -- Booklist, starred review

*"Larson... create[s] a masterful picture of the homesteading experience and the people who persevered." -- School Library Journal, starred review

"Refreshing." -- Bulletin of the Center for Children's Books