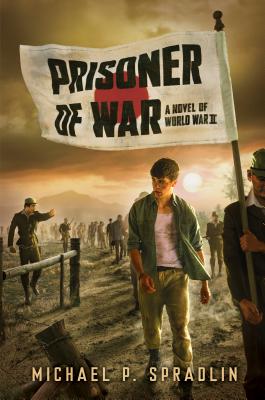 Prisoner of War (Hardcover)
A Novel of World War II
Scholastic Press, 9780545857833, 272pp.
Publication Date: June 27, 2017
* Individual store prices may vary.
Description
Survive the war. Outlast the enemy. Stay alive.That's what Henry Forrest has to do. When he lies about his age to join the Marines, Henry never imagines he'll face anything worse than his own father's cruelty. But his unit is shipped off to the Philippines, where the heat is unbearable, the conditions are brutal, and Henry's dreams of careless adventuring are completely dashed.Then the Japanese invade the islands, and US forces there surrender. As a prisoner of war, Henry faces one horror after another. Yet among his fellow captives, he finds kindness, respect, even brotherhood. A glimmer of light in the darkness. And he'll need to hold tight to the hope they offer if he wants to win the fight for his country, his freedom . . . and his life.Michael P. Spradlin's latest novel tenderly explores the harsh realities of the Bataan Death March and captivity on the Pacific front during World War II.
About the Author
Michael P. Spradlin is a New York Times bestselling author. His books include Into the Killing Seas, the Youngest Templar trilogy, the Wrangler Award Winner , and several other novels and picture books. He holds a black belt in television remote control and is fluent in British, Canadian, Australian, and several other English-based languages. He lives in Lapeer, Michigan. Visit him online at michaelspradlin.com.
Praise For Prisoner of War: A Novel of World War II…
Praise for Into the Killing Seas:
"Spradlin spins a gut-wrenching survival tale." -- Booklist
"A marvelous fit in a social studies class, this novel would work well as a companion text to a World War II unit and will engage and connect students to the past." -- School Library Journal