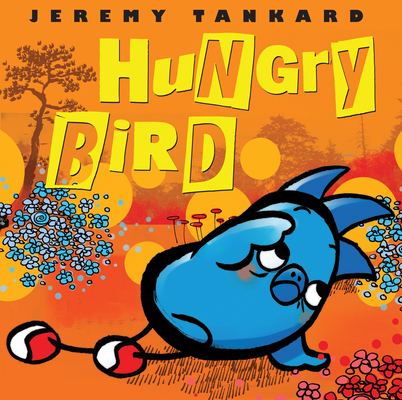 Hungry Bird (Hardcover)
Scholastic Press, 9780545864176, 32pp.
Publication Date: September 27, 2016
* Individual store prices may vary.
Description
Bird is hiking with his friends when his tummy rumbles.

But no one packed him a snack that he likes!

With every step, his hunger mounts until he collapses on the ground.

How will Bird survive if he doesn't eat the perfect something this instant?!


The hilarious blue-feathered anti-hero who first starred in Jeremy Tankard's high-flying debut, Grumpy Bird, returns in another laugh out loud melodrama. For every child who has ever needed a snack right now, and for every parent who has had to cope with a hangry, fussy child, Hungry Bird is sure to satisfy.
About the Author
When Jeremy Tankard's daughter was three, she said, "Draw grumpy things, Daddy." He drew her a grumpy lion, a grumpy snake, a grumpy bear, a grumpy alarm clock, and, finally, a grumpy bird. The bird looked SO grumpy, SO ridiculous and so CUTE that they both started to laugh. Jeremy recognized a story in this character and sat down to write it. That story became the Los Angeles Times Favorite Book, Grumpy Bird, and more hilarious stories followed in Boo Hoo Bird, and Hungry Bird. The beloved Bird series has become a bestseller in Jeremy's native Canada and continues to soar. He lives in Vancouver with his wife and two children. You can visit him online at www.jeremytankard.com.
Praise For Hungry Bird…
Praise for Hungry Bird:

"Bird is over-the-top, self-absorbed, melodramatic, and hilarious . . . A delightful romp." --Kirkus Reviews

"Picky eaters will be laughing along and trying new things in no time with this funny installment of Bird and friends. A recommended purchase perfect for storytime or small group sharing that will be in high demand." --School Library Journal

"Once again, Tankard draws a lot of humor from the disconnect between the chunky-cute looks of his woodland cast and the angry depths of his rosy-cheeked hero." --Publishers Weekly


Distinctions and Praise for Grumpy Bird:

An LA Times Favorite Book of 2007

"Comic perfection." --The Wall Street Journal

"Hilarious." --The Los Angeles Times

"Tankard's illustrations alone will cheer up any bad mood." --Parent & Child Magazine, Teachers' Picks, April 2007

"A way out of a bad mood for surly birds, whatever their species." --Publishers Weekly

"Whimsical and funny." --Kirkus Reviews

"A good addition to storytimes." --School Library Journal


Praise for Boo Hoo Bird:

"Mood master Jeremy Tankard succeeds again." --Time Out New York

"Like Mo Willems . . . Tankard takes the worldview of the toddler seriously while appreciating its humor. He has distilled his insight into the toddler mind into dramas that are the pint-size equivalent of Shakespeare." --The Los Angeles Times

"Bet high on this becoming another storytime winner, just like its predecessor." --Booklist

"Distinctive." --Horn Book

"Playful pacing and taut expressions capture the humor and vulnerability of Bird and his gang. This selection will resonate." --Kirkus Reviews

"With its blend of realism and exaggeration, condolence and humor, this may well turn a sympathetic 'Boo hoo hoo!' into a family standby in times of bonkitude." --BCCB