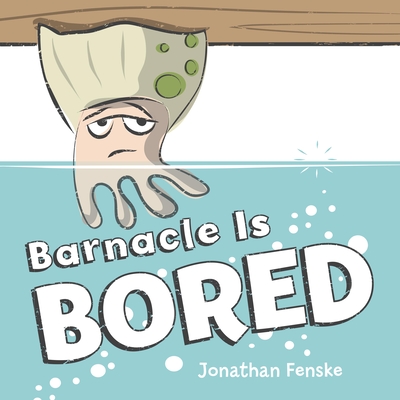 Barnacle Is Bored (Hardcover)
Scholastic Inc., 9780545865043, 40pp.
Publication Date: May 10, 2016
* Individual store prices may vary.
Description
Barnacle is stuck on the underside of a pier, wishing he had something to do. Every day is exactly the same. The tide comes in and Barnacle gets wet. The tide goes out and Barnacle dries off. Boring! Barnacle wants something EXCITING to happen. Then a colorful fish swims by. Barnacle bets the fish doesn't have a boring life. In the end, it turns out exciting isn't always better. . . This picture book is an irreverent and playful answer to any child's declaration of boredom!
About the Author
Jonathan Fenske is the author/illustrator of the leveled readers (Woodward and McTwee, Love Is in the Air, Guppy Up!) and A Pig, a Fox, and a Box (2015). Barnacle is Bored is his first picture book. He lives in Denver with his family.
Praise For Barnacle Is Bored…
Praise for Barnacle is Bored:

"This playful book addresses the universal problem of feeling bored while everyone else appears to be having a great time . . . Barnacle's round eyes and expressive eyebrows create endearing and silly expressions. High-contrast speech bubbles contain one sentence per page. VERDICT A light and accessible read." -- School Library Journal

"In a mischievous skit of a story, Geisel Award Honoree Fenske (A Pig, a Fox, and a Box) introduces a dyspeptic barnacle for whom the sea grass is always greener–until it isn't . . . From narration that consists entirely of Barnacle's mopey monologue to a dockside environment defined by creamy blue water, a bit of sand, and a couple planks, Fenske keeps it simple, deploying his closing jokes with confident comic timing." -- Publishers Weekly

"What better protagonist could there be to illustrate boredom than a sedentary barnacle? . . . This tale where 'the seaweed is always greener' is an entertaining antidote to boredom." -- Booklist

"Fenske's open, flat-colored, loose-lined, animated cartoon style and simple dialogue-bubble text in a large, bold font are inviting for new readers." -- Kirkus Reviews


Praise for Plankton Is Pushy:

"Kids will want [to] revisit this book, enjoying time and time again the surprise ending while also developing an attention to detail and the possibilities of interpretation." -- The Bulletin of the Center for Children's Book