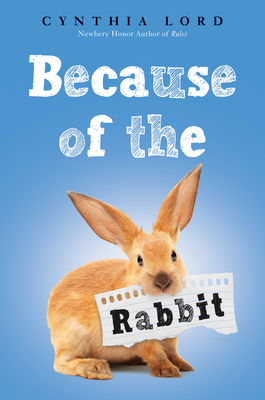 Because of the Rabbit
Hardcover

* Individual store prices may vary.
Description
Newbery Honor-winning author Cynthia Lord has written a sensitive and accessible book about the challenges of fitting in when you know you're a little different.
On the last night of summer, Emma tags along with her game warden father on a routine call. They're supposed to rescue a wild rabbit from a picket fence, but instead they find a little bunny. Emma convinces her father to bring him home for the night.

The next day, Emma starts public school for the very first time after years of being homeschooled. More than anything, Emma wants to make a best friend in school.

But things don't go as planned. On the first day of school, she's paired with a boy named Jack for a project. He can't stay on topic, he speaks out of turn, and he's obsessed with animals. Jack doesn't fit in, and Emma's worried he'll make her stand out.

Emma and Jack bond over her rescue rabbit. But will their new friendship keep Emma from finding the new best friend she's meant to have?

Newbery Honor-winning author Cynthia Lord has written a beautiful and sensitive book about being different and staying true to yourself.
Praise For Because of the Rabbit…
Praise for Because of the Rabbit:

2020 ALSC Notable Children's Book

* "A young girl learns about honesty, integrity, and friendship when she finds a lost rabbit and starts school for the first time... The beauty in Lord's tale of finding home in a new community is the way Emma's grandfather reaches her with his stories of magic even after he is gone, teaching her important lessons about following through on one's promises... Delightful." -- Kirkus Reviews, starred review

* "Emma learns the rewards of patience and understanding the perspectives of others. [An] insightful story -- lucidly written from the heart." -- Publishers Weekly, starred review

* "Lord uses clear, straightforward sentences to relate experiences in ways that speak directly to children. From Emma's relationship with her brother to her insecurities about attending school to her procrastination in calling a family that's lost a rabbit, her emotions are mixed but layered and evident to readers. A heartfelt chapter book with broad appeal." -- Booklist, starred review


Praise for A Handful of Stars:

* "Salma's artistic creativity and gumption awaken Lily to the power of imagination, the importance of embracing change and knowing when to let go of the past, and the rewards of venturing beyond one's comfort zone." -- Publishers Weekly, starred review

* "The treatment of Salma's migrant life is matter-of-fact but direct, and Lily plausibly deals with possibilities of local racism and swells with indignation on behalf of her new friend. It's the straightforward and unaffected prose (highly suitable for a readaloud as well as reading alone) that really allows Lily's story to shine... it's hard to resist joining her on her journey toward greater maturity." -- Bulletin of the Center for Children's Books, starred review


Praise for Half a Chance:

* "[Lord] has combined vivid, cinematic description with deft characterization and handles several important issues with sensitivity, nuance, and great skill. A deeply enjoyable read." -- School Library Journal, starred review

* "With winning results, Lord brings the same sensitivity to the subject of dementia that she brought to autism in her Newbery Honor book, Rules." -- Kirkus Reviews, starred review


Praise for Rules:

Newbery Honor Book
Schneider Family Book Award
ALA Notable Children's Book
Scholastic Press, 9780545914246, 192pp.
Publication Date: March 26, 2019
About the Author
Cynthia Lord is the award-winning author of Rules, a Newbery Honor Book and a Schneider Family Book Award winner, as well as the critically acclaimed Half a Chance, A Handful of Stars, and Because of the Rabbit. She made her picture-book debut with Hot Rod Hamster, which won several awards, including the Parents' Choice Award, and is the author of the Shelter Pet Squad chapter book series. She lives in Maine with her family. Visit her at cynthialord.com.