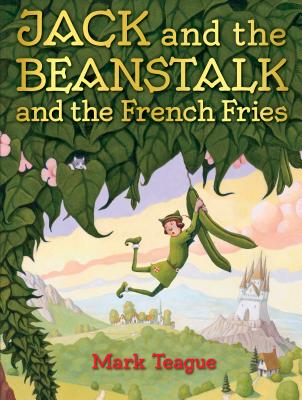 Jack and the Beanstalk and the French Fries (Hardcover)
Orchard Books, 9780545914314, 40pp.
Publication Date: July 25, 2017
* Individual store prices may vary.
Description
FEE FI FO FUM!

When Jack trades the family cow for a handful of magic beans, he gets more beans than he ever expected or wanted. It's bean porridge for breakfast! Bean salad for lunch! Bean chowder for dinner! It doesn't take long before Jack is tired of eating nothing but beans--no matter how nutritious!

But just as he's about to chop down his magic beanstalk, he meets a grumpy giant, who is just as sick and tired of beans as he is. Together, Jack and the giant cook up a plan to plant a vegetable garden full of tomatoes, corn, carrots, and russet potatoes that's bound to satisfy everyone.

A deliciously zany retelling of Jack and the Beanstalk from author Mark Teague that ends with one happy boy, a satisfied giant, and a large plate of french fries.

About the Author
Mark Teague is the award-winning children's book author and illustrator of his own bestselling Dear Mrs. LaRue series, as well as The Sky Is Falling, The Three Little Pigs and the Somewhat Bad Wolf, The Tree House That Jack Built by Bonnie Verburg, and many other humorous picture books. In addition to his prized art for the How Do Dinosaurs . . . series, his illustrated novel, The Doom Machine, received excellent reviews. Mark lives in the Hudson River Valley with his wife and their two daughters.
Praise For Jack and the Beanstalk and the French Fries…
Praise for The Three Little Pigs and the Somewhat Bad Wolf by Mark Teague:
"Animated with drama and deadpan wit, Teague's large-scale oil paintings show up
very well from a distance, making this a good story-hour choice." -- Booklist

Praise for Dear Mrs. LaRue: Letters from Obedience School by Mark Teague:
Publishers Weekly Best Book of the Year
* "Hilarious. . . Ike is a hero!" -- Booklist, starred review

Praise for How Do Dinosaurs Say Good Night? by Jane Yolen and illustrated by Mark Teague:
School Library Journal Best Book of the Year
* "A delight from start to finish; better buy more than one." -- Booklist, starred review

Praise for Pigsty by Mark Teague:
* "Teague is once again right on target. . .with his idiosyncratic brand of sly humor." -- Publishers Weekly, starred review