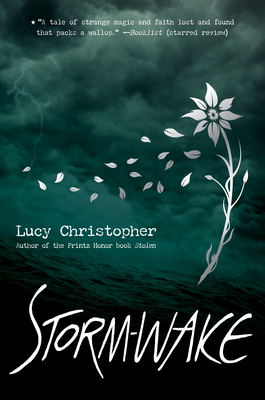 Storm-Wake (Hardcover)
Chicken House, 9780545940320, 320pp.
Publication Date: July 31, 2018
* Individual store prices may vary.
Description
A tour de force retelling of The Tempest from a romantic, emotional, and inspiring voice, perfect for passionate readers of all ages.
"A tale of strange magic and faith lost and found that packs a wallop." --Booklist

Moss has grown up on the strangest and most magical of islands. Her father has a plan to control the tempestuous weather that wracks the shores. But the island seems to have a plan of its own once Callan -- a wild boy her age -- appears on its beaches. Her complex feelings for Callan shift with every tide, while her love for the island, and her father, are thrown into doubt...

And when one fateful day, a young man from the outside world washes up on the beach, speaking of the Old World, nothing will ever be the same.

A dark reflection of Shakespeare's The Tempest, Storm-wake is one girl's voyage of discovery -- a mesmerizing tale of magic, faith, and love.
About the Author
Lucy Christopher's novel STOLEN was named a Printz Honor Book by the ALA and received England's Branford Boase award and Australia's Gold Inky for best debut. In a starred review, PUBLISHERS WEEKLY called it "an emotionally raw thriller...a haunting account of captivity and the power of relationships." She is also the author of FLYAWAY, a novel for younger readers, and THE KILLING WOODS, a novel for young adults. Lucy lives in Monmouth, Wales. Visit her at www.lucychristopher.com and follow her on Twitter @LucyCAuthor.
Praise For Storm-Wake…
Praise for Storm-wake:
"As wild and refreshing as an ocean storm" - Kirkus

"A tale of strange magic and faith lost and found that packs a wallop." - Booklist

"A magical experience... Reading [Storm-wake] made me wonder what I'd fight hardest for--my dreams, or for real life." -- Melvin Burgess

"The perfect book for anyone who needs a little more magic in their life." -- Marcus Sedgwick, The Printz Award-winning author of Midwinterblood."


Praise for The Killing Woods:

"A gripping, heartbreaking, emotionally substantial look at war wounds and the allure of danger." -- Kirkus Reviews, starred review

"[A] tense and nimbly crafted psychological thriller." -- Publishers Weekly

Praise for Stolen:

Michael L. Printz Honor Book

ALA Best Fiction for Young Adults

USBBY Outstanding International Book

"Complicated and beautiful -- it left me doubting my emotions and missing a place I'd never been." -- Maggie Stiefvater

"All the tension of lightning, all the terror of thunder. A stunning, scary, and beautiful book." -- John Marsden

"An emotionally raw thriller... a haunting account of captivity and the power of relationships." -- Publishers Weekly, starred review