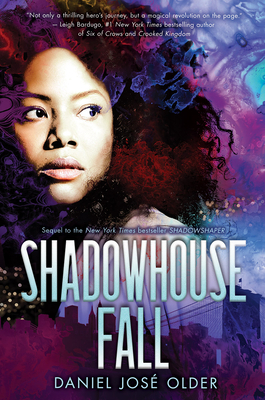 Shadowhouse Fall (The Shadowshaper Cypher, Book 2) (Hardcover)
Arthur A. Levine Books, 9780545952828, 368pp.
Publication Date: September 12, 2017
Other Editions of This Title:
Paperback (7/30/2019)
* Individual store prices may vary.
Description
The stunning sequel to the New York Times bestseller Shadowshaper is daring, dazzling, defiant.

"A magical revolution on the page." -- Leigh Bardugo

"[Older] leaves us openmouthed and speechless, asking "What just happened to me?!" -- Jacqueline Woodson

Sierra and her friends love their new lives as shadowshapers, making art and creating change with the spirits of Brooklyn. Then Sierra receives a strange card depicting a beast called the Hound of Light -- an image from the enigmatic, influential Deck of Worlds. The shadowshapers know their next battle has arrived.

Thrust into an ancient struggle with enemies old and new, Sierra and Shadowhouse are determined to win. Revolution is brewing in the real world as well, as the shadowshapers lead the fight against systems that oppress their community. To protect her family and friends in every sphere, Sierra must take down the Hound and master the Deck of Worlds . . . or risk losing them all.
About the Author
Daniel José Older has always loved monsters, whether historical, prehistorical, or imaginary. His debut series for young adults, the Shadowshaper Cypher, has earned starred reviews, the International Latino Book Award, and New York Times Notable Book and NPR Best Books of the Year picks, among other accolades. He has worked as a bike messenger, a waiter, a teacher, and was a New York City paramedic for ten years. Daniel splits his time between Brooklyn and New Orleans.
Praise For Shadowhouse Fall (The Shadowshaper Cypher, Book 2)…
Praise for Shadowhouse Fall:

"I turned pages so quickly I got paper cuts." -- NPR

"Older knows that today's young people are just as magical as his characters." --Teen Vogue

* "Older paints a compelling picture of contemporary life for black and brown teens in cities: Afro-Latinx Sierra and her friends deal with police harassment and brutality, both on the streets of Bed-Stuy and at school, themes that feels especially timely and relevant.... Older excels at crafting teen dialogue that feels authentic, and props to everyone involved for not othering the Spanish language. This second volume features a tighter plot and smoother pacing than the first, and the ending will leave readers eagerly awaiting the further adventures of Sierra and her friends. Lit." -- Kirkus Review, starred review

* "With the same keen eye for the power of art and a sly commentary on the insidious nature of racism and white supremacy--as well as a deft handle on zippy teenage banter and cinematic pacing--Older delivers a fantastic follow-up to his best-selling Shadowshaper (2015), which not only intensifies the stakes of the first book but expands the scope of his well-wrought, vivid world building.... The expanding cast of well-rounded characters, clearly choreographed action, and foreshadowing of installments to come will have fantasy fans eagerly awaiting more of this dynamic, smart series." -- Booklist, starred review

* "Exciting.... Older has upped the ante with this second installment." -- School Library Journal, starred review

"A stunning sequel that will leave fans clamoring for book three." -- Shelf Awareness

"Beautifully rendered. . . . Older has a knack for evoking cultural particularity and evading stereotype, a talent evident in characterization and in dialogue." --Latinxs in Kid Lit

"The inclusion of black West Indian/Afro Latinx culture and transformative friendships throughout this book lends a fascinating and refreshing element to a series that already feels wonderfully distinctive, and the inclusion of new and intricate mythologies is sure to keep readers entranced. Newcomers owe it to themselves to read this series in order to appreciate the unique magic in all its forms." -- RT Book Reviews, Top Pick

"Older takes the idea of fantasy as metaphor and smashes it to bits, bringing us to a Brooklyn steeped in magic that feels utterly real and punch-to-the-gut perilous. A powerful adventure that blurs the line between the real and the imagined in daring, breathtaking ways, Shadowhouse Fall is not only a thrilling hero's journey, but a magical revolution on the page." -- Leigh Bardugo, New York Times-bestselling author of Six of Crows and Crooked Kingdom

"Brilliant. . . . A novel about Brooklyn, love, spirituality, family and something else. Something I can't even explain but am enthralled by and want more of. This is the beauty and magic of Older's writing--he leaves us openmouthed and speechless, asking 'What just happened to me?!' Loved this book." -- Jacqueline Woodson, New York Times bestselling author of Another Brooklyn and Brown Girl Dreaming

"Shadowhouse Fall flips and reshuffles principles of light and darkness in stunning revelation after revelation. Older's vivid ink and prose deftly obliterates any bounds between a tangible and a supernatural Brooklyn. I am still under its spell." -- Rita Williams-Garcia, three-time Coretta Scott King Author Award-winner

"Here is the real Brooklyn: myriad cultural communities caught in the squeeze and pressure of gentrification, and of course, the shadows and perils of the undead -- and the tough, wise, and lovable Sierra Santiago is there to navigate us through it all. Older is a brilliant storyteller, and with sharp, smart, and hilarious dialogue and prose, Shadowhouse Fall is a fresh, enthralling speculative novel for readers of all ages." -- Brendan Kiely, award-winning co-author of All-American Boys, and critically acclaimed author of The Last True Love Story


Praise for Shadowshaper:

A Top Ten YALSA Best Fiction for Young Adults Selection
A Top Ten ALA Quick Pick
A Kirkus Prize Finalist
An Andre Award Nominee
A New York Times Notable Children's Book
An NPR Best Book of the Year
A Publishers Weekly Best Book of the Year

"In the best urban fantasy, the city is not just a backdrop, but functions as a character in its own right . . . That is certainly true in Daniel José Older's magnificent Shadowshaper, which gives us a Brooklyn that is vital, authentic, and under attack. . . Older is able to infuse Shadowshaper with the spirit of Brooklyn in the summer, where the possibility of magic hangs shimmering in the air. This is a world that readers cannot help wanting to live in and, as with all great urban fantasies, harboring a suspicion that perhaps we already do." -- Holly Black, New York Times bestselling author of The Coldest Girl in Coldtown and The Iron Trial, in The New York Times Book Review

"Older's book is a first-rate example of how representation, diversity and themes of social justice and identity can be skillfully woven into a narrative -- not so that they disappear, but so that the story pivots on them in a way that is authentic, exciting, and ultimately satisfying." -- Cory Doctorow, Boing Boing

"The strength of Older's tale is in his meticulous attention to the details of the life of a brown-skinned, natural-haired Puerto Rican teenage girl. Older's storytelling is rich enough to warrant such treatment, because this is a world that will stay with readers long after the last page." -- Los Angeles Times

* "Warm, strong, vernacular, dynamic -- a must." -- Kirkus Reviews, starred review

* "Excellent diverse genre fiction in an appealing package." -- School Library Journal, starred review

* "What makes Older's story exceptional is the way Sierra belongs in her world, grounded in family, friends, and an awareness of both history and change." -- Publishers Weekly, starred review

* "Smart writing with a powerful message that never overwhelms the terrific storytelling." -- Booklist, starred review

"Older not only gives readers a diverse cast, but he stays true to their background, language and community, lending an authenticity to his work... If you're a YA urban fantasy reader looking for something creative and different, try Shadowshaper on for size." -- Romantic Times Book Review

"Exactly the kind of title Walter Dean Myers charged his peers to pen at the onset of his career and the kind of narrative he was still imploring publishers to fete in the twilight of his life, one that takes young readers, their unique needs and their racial and cultural realities seriously. Shadowshaper would make him proud." -- The Washington Post

"Joyful and assertive and proud, and makes me want to read everything else of Older's, for more of these voices, connections and lives." -- National Public Radio

"Sierra Santiago is the type of character we've all hoped we could have in YA." -- Bustle.com

"Daniel José Older is one of my favorite new voices, and I can't wait to see what he (and Sierra) come up with next." -- Anika Noni Rose, star of Dreamgirls and The Princess and the Frog

"I highly recommend Shadowshaper... it is exceptional in a great many ways." -- Debbie Reese, American Indians in Children's Literature

"One of my favorite books of the year, period." -- Rebecca Schinsky, BookRiot

"Shadowshaper is a game changer." -- FlavorPill