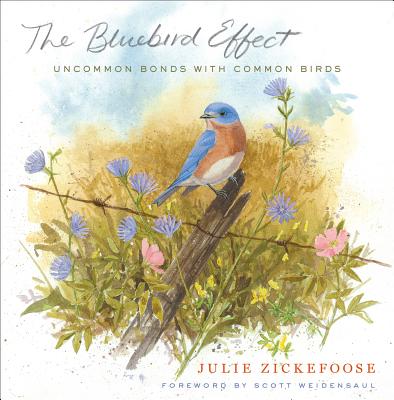 The Bluebird Effect
Uncommon Bonds with Common Birds
Hardcover

* Individual store prices may vary.
Description
Julie Zickefoose lives for the moment when a wild, free living bird that she has raised or rehabilitated comes back to visit her; their eyes meet and they share a spark of understanding. Her reward for the grueling work of rescuing birds—such as feeding baby hummingbirds every twenty minutes all day long—is her empathy with them and the satisfaction of knowing the world is a birdier and more beautiful place.

The Bluebird Effect is about the change that's set in motion by one single act, such as saving an injured bluebird—or a hummingbird, swift, or phoebe. Each of the twenty five chapters covers a different species, and many depict an individual bird, each with its own personality, habits, and quirks. And each chapter is illustrated with Zickefoose's stunning watercolor paintings and drawings. Not just individual tales about the trials and triumphs of raising birds, The Bluebird Effect mixes humor, natural history, and memoir to give readers an intimate story of a life lived among wild birds.

Praise For The Bluebird Effect: Uncommon Bonds with Common Birds…
"We've been knocked to our knees by the delightful illustrated essay collection… you don't have to care all that much about birds to get sucked into [Zickefoose's] dreamy illustrated stories of bluebirds and phoebes, titmice and ospreys. In delicate, subtle strokes of the pen and brush, she reveals a lifetime of backyard friendships—moments spent observing a bluebird couple or listening to the calls of scarlet tanagers….Zickefoose has spent a lifetime observing this particular corner of the domestic-wild world, and she did not escape these experience without gaining both wisdom and humor—about mates, about our obligation to help others or set them free, about loss and about thankfulness." —Oprah.com's Book of the Week
Library Journal's BEST BOOKS OF 2012: Science & Technology
2013 Ohioana Book Award, nonfiction

"Birders will appreciate her meticulous observations and devotion to the avian world, but anyone who's ever considered hanging a birdfeeder is likely to be mesmerized by the sensuous, precise prose as well as Zickefoose's vivid portraits of scrawny, fluffy phoebe chicks, a self-possessed hummingbird perched on a clothesline, dwarfed by the surrounding clothespins, and orioles migrating by moonlight. Readers will be astounded by the drama and intelligence fluttering in their backyards." —Publishers Weekly"a wonderful amalgam of nature writing and memoir…This lovely book is one to savor slowly, admiring both writing and artistry." —Booklist, starred review
"Beguiling stories from a naturalist's life with backyard birds....Describing her songbirds with a delicacy of words and brush strokes, Zickefoose makes learning about birds seem like the adventure of a lifetime. A wonderful treat for birders." —Kirkus
"The Bluebird Effect" is a terrific read and a feast for the eyes. Buy! Buy! Buy!" —The Charleston Gazette
"insightful essays and lovely illustrations...[Zickefoose has] drawn sketches and painted vivid pictures with words, letting us see much more about those not-so-common lives outside our windows." —Seattle Times
Houghton Mifflin Harcourt, 9780547003092, 384pp.
Publication Date: March 20, 2012
About the Author
Writer/artist JULIE ZICKEFOOSE is fascinated by the interface of birds and people. She is the author of Natural Gardening for Birds; Letters from Eden: A Year at Home, in the Woods; The Bluebird Effect: Uncommon Bonds With Common Birds; and Baby Birds: An Artist Looks Into the Nest. She is the only person ever to specialize in painting the day-to-day development of nestling birds. Studying blue jays, a familiar yet deeply mysterious species, has opened a new world to her. She lives and documents the lives of birds, bobcats, coyotes, deer, and other wildlife on an 80-acre sanctuary in southeast Ohio.