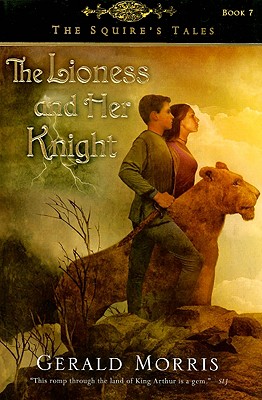 The Lioness and Her Knight (The Squire's Tales #7)
Paperback

* Individual store prices may vary.
Description
Luneta is tired of living in dull Orkney with her mother and father (who happens to be the most boring knight of King Arthur's Round Table). She prides herself on always getting what she wants, so when the opportunity presents itself, she jumps at the chance to stay at a family friend's castle near Camelot. Her handsome cousin, Sir Ywain—a young knight seeking adventure—arrives just in time to escort her to King Arthur's court.
Along the way they pick up a knight-turned-fool named Rhience, whose wit and audacity set many a puffed-up personality in its place. Before arriving at Lady Laudine's castle, the trio stops at Camelot, where they hear the story of the Storm Stone, a magical object deep in the forest that soon sweeps everyone into a web of love, betrayal, and more than a bit of magic.
Filled with broken promises, powerful enchantresses, unconventional sword fights, fierce and friendly lionesses, mysterious knights, and damsels in and out of distress, The Lioness and Her Knight proves itself as witty and adventuresome as the rest of Gerald Morris's tales from King Arthur's court.
Praise For The Lioness and Her Knight (The Squire's Tales #7)…
"Once again, Morris brilliantly re-animates an old story, keeping readers engaged while gently, genially urging them to ruminate over the truths at its heart." --Kirkus, starred Kirkus Reviews, Starred

""Adventure, magic, love, and knights of the realm collide in this delightfully witty tale from the legend of King Arthur. . . . With characters reminiscent of a Monty Python sketch and a knight with a Don Quixote complex, this romp through the land of King Arthur is a gem." --School Library Journal School Library Journal

"Morris balances farce and drama with ease, and his main characters are memorable, sympathetic, and frequently hilarious." —Horn Book Horn Book —
Clarion Books, 9780547014852, 352pp.
Publication Date: October 6, 2008
About the Author
When Gerald Morris was in fifth grade he loved Greek and Norse mythology and before long was retelling the stories to his younger sister and then to neighborhood kids. He began carrying a notebook in which he kept some of the details related to the different stories. The joy he found in retelling those myths continued when he discovered other stories. According to Gerald Morris, "I never lost my love of retelling the old stories. When I found Arthurian literature, years later, I knew at once that I wanted to retell those grand tales. So I pulled out my notebook . . . I retell the tales, peopling them with characters that I at least find easier to recognize, and let the magic of the Arthurian tradition go where it will." Gerald Morris lives in Wausau, Wisconsin, with his wife and their three children. In addition to writing he serves as a minister in a church.