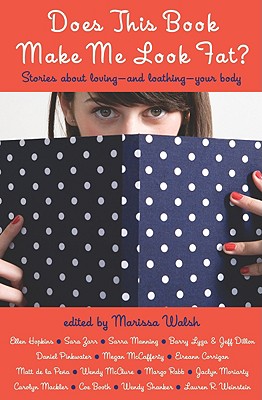 Does This Book Make Me Look Fat?
Hardcover

* Individual store prices may vary.
Description
How often do you find yourself looking in the mirror? And smiling at what you see?
More likely, you're thinking what you see is: Fat, Ugly, Skinny, Round, Stacked or Flat, Bad or Good. From reality television to tabloid headlines, we're all surrounded by weight and discussion of weight. In this collection, a stellar lineup of YA writers sound off on body image., self-esteem, diets, eating disorders, boys, fashion magazines, and why trying on jeans is a bad experience for everyone. There are eight powerful short stories and six moving personal essays from authors whose works include two New York Times bestsellers, a Los Angeles TImes Book Prize, and a Printz Honor; an appendix offers book, movie, and music recommendations. (And in case you're still wondering, No this book does not make you look fat.)


Praise For Does This Book Make Me Look Fat?…
"This star-studded collection tackles a popular topic—body image—with humor, sensitivity, and creativity. An entertaining essay (unfortunately placed given the intended audience) by Daniel Pinkwater on what it's like to be a fat, middle-aged man starts the collection. This rocky start will quickly be forgiven with Megan McCafferty's story narrated by a pair of skinny jeans. Other highlights are Matt de la Peña's wrenching story of a young man coming to terms with his sister's devastating eating disorder, and Sarra Manning's feisty protagonist, who helps a co-worker find her own style and later faces her own body issues. The focus on living in one's body as a teenager or young woman extends the appeal for women college aged and older. An appendix lists body-positive Web sites, books, and music. While only two entries overtly feature minority characters, the variety of body issues is diverse enough that anyone can relate: too short, too fat, too busty, too flat, eating too much, eating too little. All convey the importance of loving one's self, regardless of one's shape."--Booklist

"This is a well-intentioned book of essays and short stories by a diverse group of young adult authors including Barry Lyga and Ellen Hopkins. The selections are pretty evenly divided between fiction and personal essay; however, all touch on the concept of body image (defined here in terms of weight). Two stories, by Sarra Manning and Coe Booth, distinguish themselves by not addressing body image in these terms, focusing instead on breast and butt size, respectively. Although three of the selections feature male subjects, it is clear that the collection anticipates a female readership. While Daniel Pinkwater's and Lyga's contributions are what seem to be personal essays about the authors' own thoughts on weight, Matt de la Peña's short story is told from the perspective of an older brother dealing with his sister's anorexia. The collection concludes with a list of recommended reading and viewing, a list of songs entitled "Big Girls Don't Cry," and an unannotated list of Web sites, some of which promote healthy body images for teens, others of which are commercial sites featuring plus-size clothing. From the selections to the recommendations, it is clear that this book is attempting to advance self-acceptance; however, the limited breadth of the stories, and the dubious commercial/public service nature of the webliography result in a mixed message."-School Library Journal
"Fourteen authors and artists weigh in on body image in a thoughtfully edited anthology. Walsh (Not Like I'm Jealous or Anything: The Jealousy Book) calls on males (Daniel Pinkwater, Barry Lyga), cartoonists (Lauren R. Weinstein) and writers best known for their work for adults (Wendy Shanker), as well as prominent female YA novelists (Ellen Hopkins, Carolyn Mackler). A number of the entries are autobiographical, offering predictable if affirming statements on topics the same contributors have considered more imaginatively in fiction; the more memorable are short stories, as in Jaclyn Moriarty's surreal tale about teens coping with a teacher who delivers very mixed messages about their inner beauty. Lists of relevant books, movies, songs and Web sites are welcome extras."--Publishers Weekly
Clarion Books, 9780547014968, 208pp.
Publication Date: December 29, 2008
or
Not Currently Available for Direct Purchase