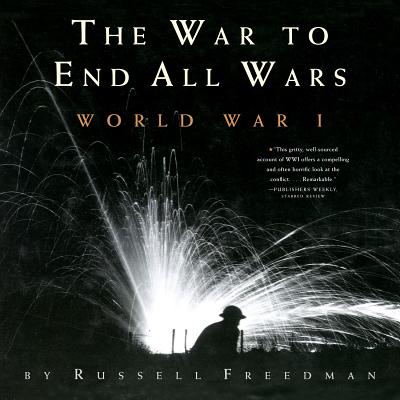 The War to End All Wars: World War I (Hardcover)
World War I
Clarion Books, 9780547026862, 176pp.
Publication Date: August 2, 2010
Description
Nonfiction master Russell Freedman illuminates for young readers the complex and rarely discussed subject of World War I. The tangled relationships and alliances of many nations, the introduction of modern weaponry, and top-level military decisions that resulted in thousands upon thousands of casualties all contributed to the "great war," which people hoped and believed would be the only conflict of its kind. In this clear and authoritative account, the Newbery Medal-winning author shows the ways in which the seeds of a second world war were sown in the first. Numerous archival photographs give the often disturbing subject matter a moving visual counterpart. "Includes source notes, a bibliography, and an index.
About the Author
Russell Freedman received the Newbery Medal for LINCOLN: A PHOTOBIOGRAPHY. He is also the recipient of three Newbery Honors, the Sibert Medal, and the Laura Ingalls Wilder Award, and was selected to give the 2006 May Hill Arbuthnot Honor Lecture. Mr. Freedman lives in New York City.
Praise For The War to End All Wars: World War I…
"In his signature lucid style, Freedman offers a photo-essay that examines World War I. . .An important addition to history curriculum."--Booklist, starred review
"Elegantly written and filled with vivid, powerful photographs, this masterful work demands a spot in every collection."--
School Library Journal, starred review

"Freedman once again demonstrates his incomparable mastery of presenting complex, sweeping historical subjects in an engaging, dynamic narrative."--
Kirkus Reviews, starred review
"[Freedman's] dramatic, often heart-wrenching narrative ends with a brief description of the rise of Hitler, leading to the reopening of hostilities in 1939. Although his focus is the war in Europe, and the book is unusually evenhanded in assessing the faults and virtues of the combatant countries, Freedman touches on fighting elsewhere in the world."--Horn Book, starred review
"It was the war that world leaders didn't want to fight, and the war that didn't quite end, and here Freedman narrates its story with a steady eye on the wasteful atrocity that ushered in modern warfare. . . . Freedman's timely organization of chronological events and topical issues is masterful, and the allegretto pacing of his narration seems deceptively effortless."--
The Bulletin, starred review


"This gritty, well-sourced account of WWI offers a compelling and often horrific look at the conflict. Freedman (Washington at Valley Forge) hooks readers with his fluid style and a detail-rich story of Archduke Ferdinand's assassination and the political powder keg that existed at the time in Europe...Readers' conclusions will likely mirror that of a French soldier writing in his diary just before he was killed: "Humanity is mad!... What scenes of horror and carnage!"--Publishers Weekly, starred review 
Book Videos
Advertisement